Diddlebury Parish Flood Action Group
The Diddlebury ducks are back! Under the new Data Protection Regulations, we are unable to identify each duck by name or to provide their web address.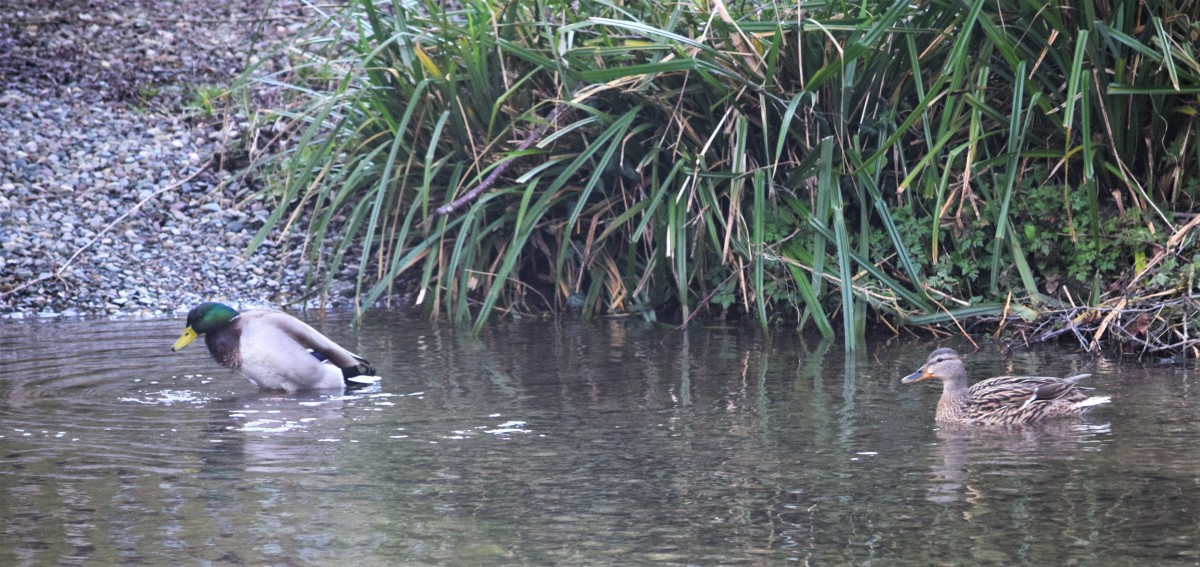 Geoff Neden
Diddlebury Parish Flood Action Group
31st March 2018
---
Diddlebury Parish Flood Action Group
Progress report # 9 – March 2018
Since the last Report in January, we have campaigned against the proposed swingeing increases in Consent Charges proposed by the Environment Agency for works on Main Rivers. Although the watercourses we deal with are Ordinary Watercourses whose Consent Charges are regulated by Shropshire Council, the construction of our leaky dams is carried out and funded on our behalf by the Shropshire Wildlife Trust (SWT). The SWT carries out many works on Main Rivers and the increased charges would have involved them in added costs amounting to nearly £200,000 pa in the Corvedale alone. Spending all this money on Consents would have meant that much less money being available to actually build things – not just in Main Rivers but also in Ordinary Watercourses such as the Diddle Brook as all their funds come from the same pot.
This was raised at the meeting held in Culmington in February with Mr Philip Dunne, our local MP and the DPC subsequently wrote in with their support during the Consultation Period. There was much concern over the whole Country amongst groups of volunteers such as ours and I am pleased to be able to report that the Government listened. In the recently published list of new Consent Charges, following the Consultation Period, the Consent Charges for our type of work have not been increased.
We have also written to Mr Dunne and our local Shropshire Councillor Cecilia Motley regarding the current almost complete lack of maintenance of drainage structures in the Parish. Mr Dunne has conveyed our concerns to the Council and we await their response.
In the meantime, in the absence of funding from any other Agencies and to avert the risk of flood damage, the DPC have kindly agreed to fund repair works to the wall beside the Mill Lane bridge as this is in a poor state of repair.
Roads Dept did eventually clear the blocked pipe near Patch Cottage in Sutton and water is now getting away.
We can confirm that all the 50 leaky dam structures have now been completed in the Diddlebrook catchment. Work is now proceeding in the Pye Brook catchment.
Work on de silting the Diddlebrook below the Mill Lane bridge is scheduled for early May.
Several of our members have volunteered to take part in a litter picking exercise sometime in June along local watercourses as part of a scheme throughout the Severn Catchment.
Geoff Neden
31st March 2018
Diddlebury Parish Flood Action Group
---
Diddlebury Parish Flood Action Group
Below are some images of leaky dams in action showing how they do have a significant effect on slowing the flow.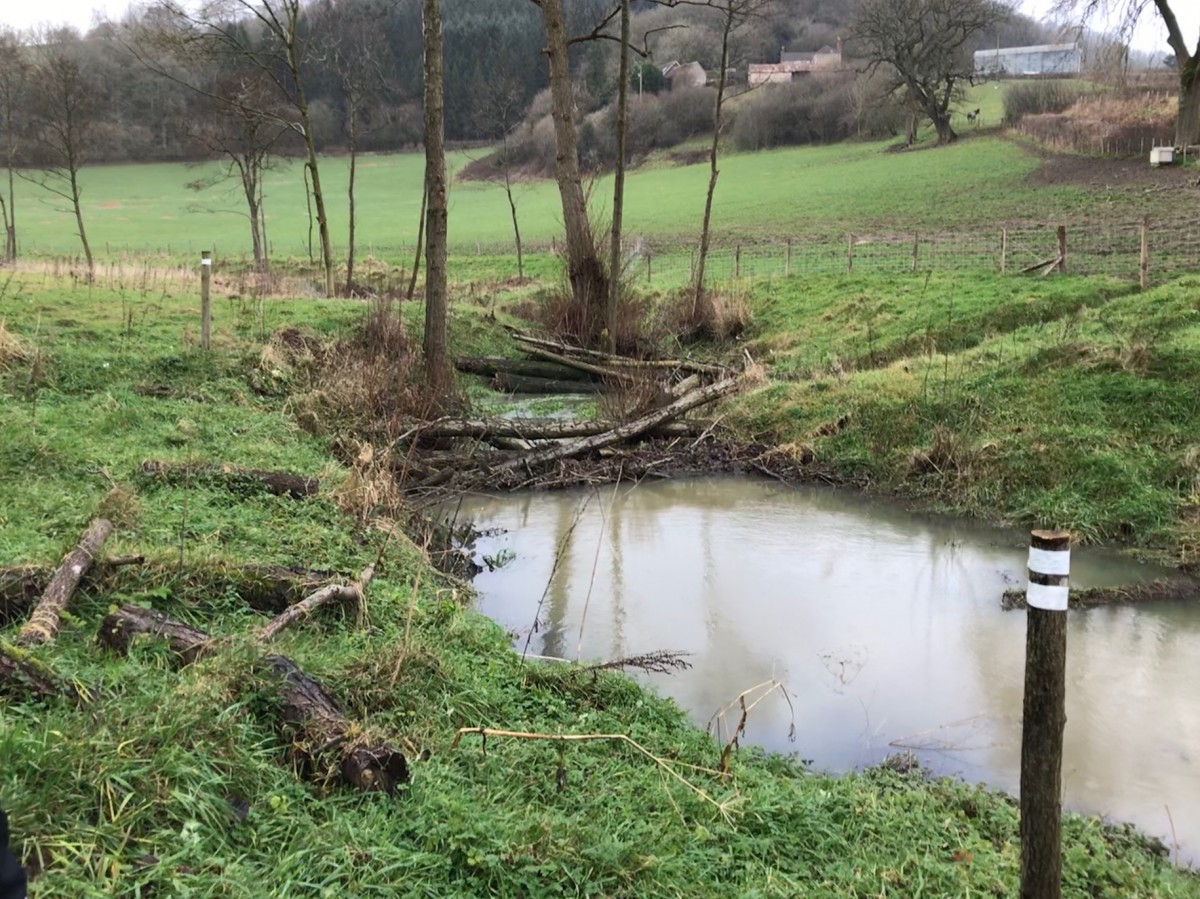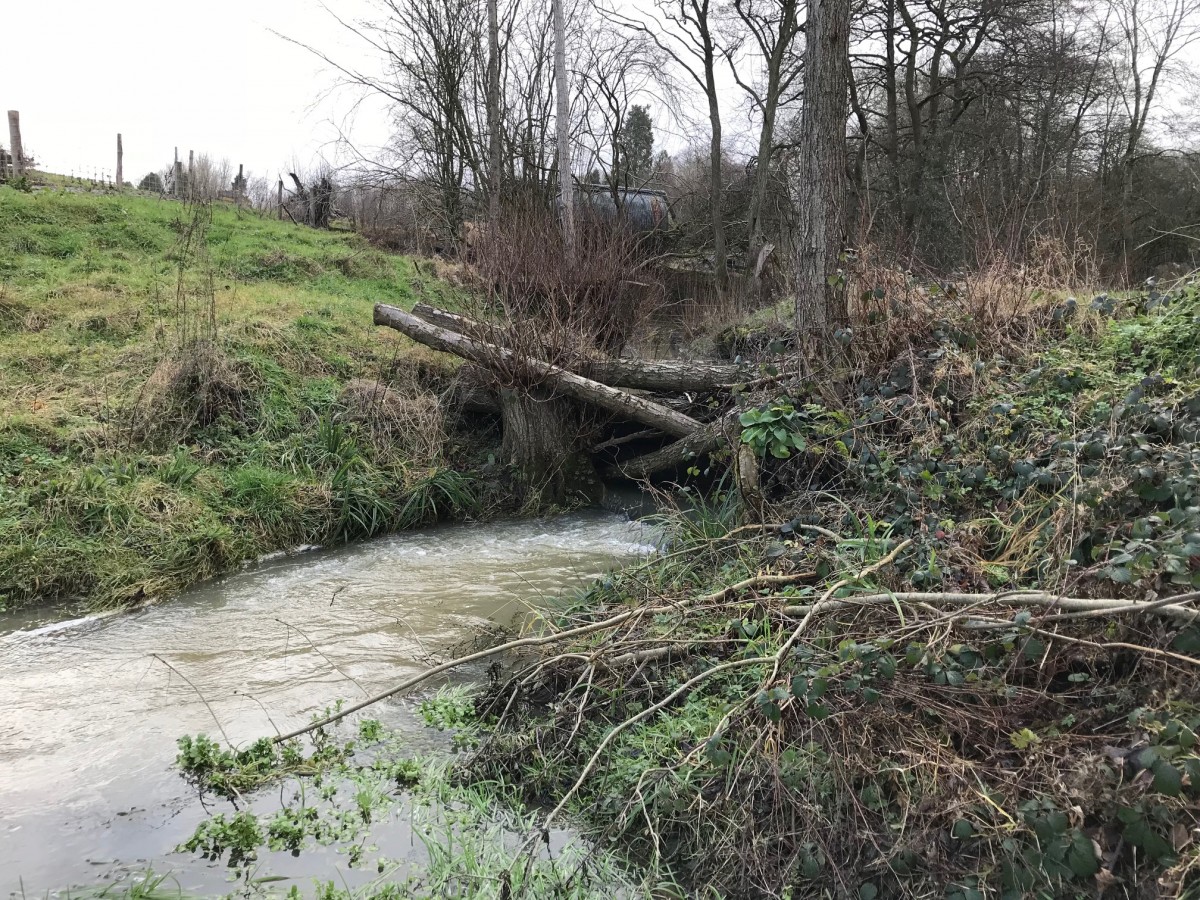 Geoff Neden
March
2018
Diddlebury Parish Flood Action Group
What we do and how we can help
Flooding of your house, business premises or farm yard can be devastating. Whilst it is not possible to completely eliminate the risk of flooding, there are things which can be done to lessen its dire effects.
1)            Slowing the Flow to reduce flood peaks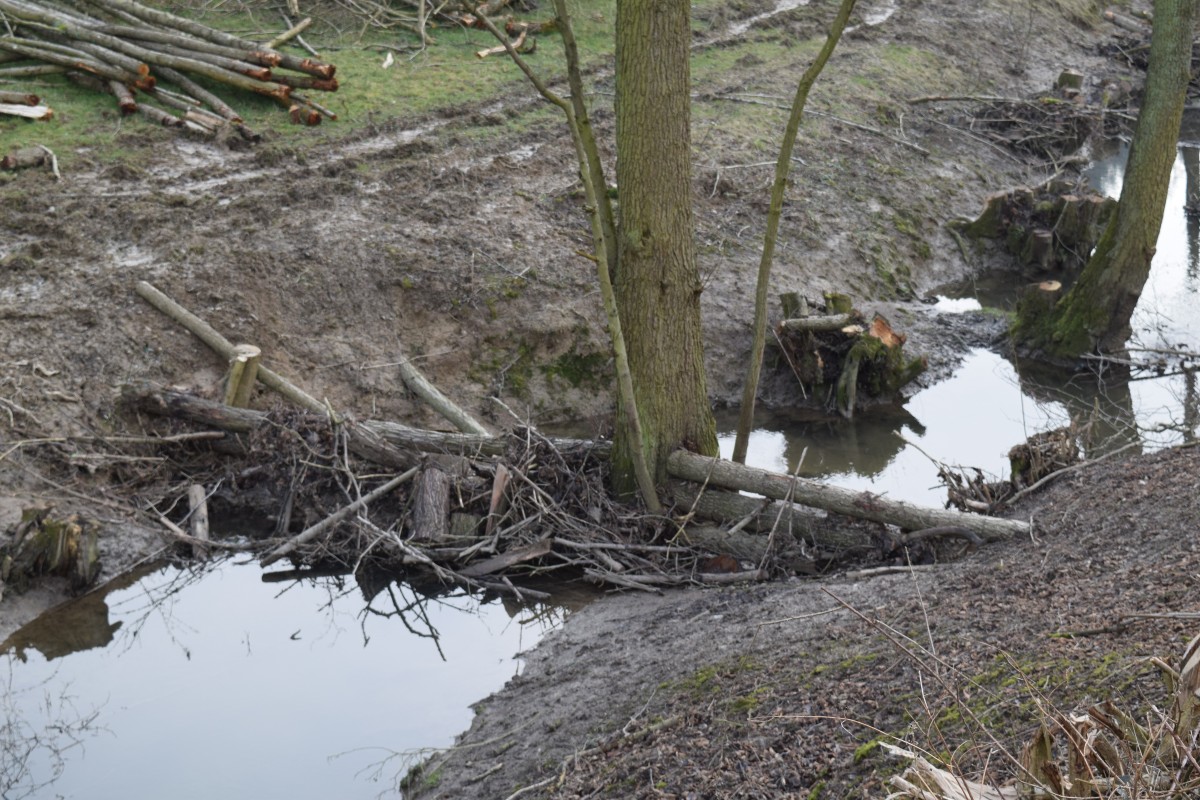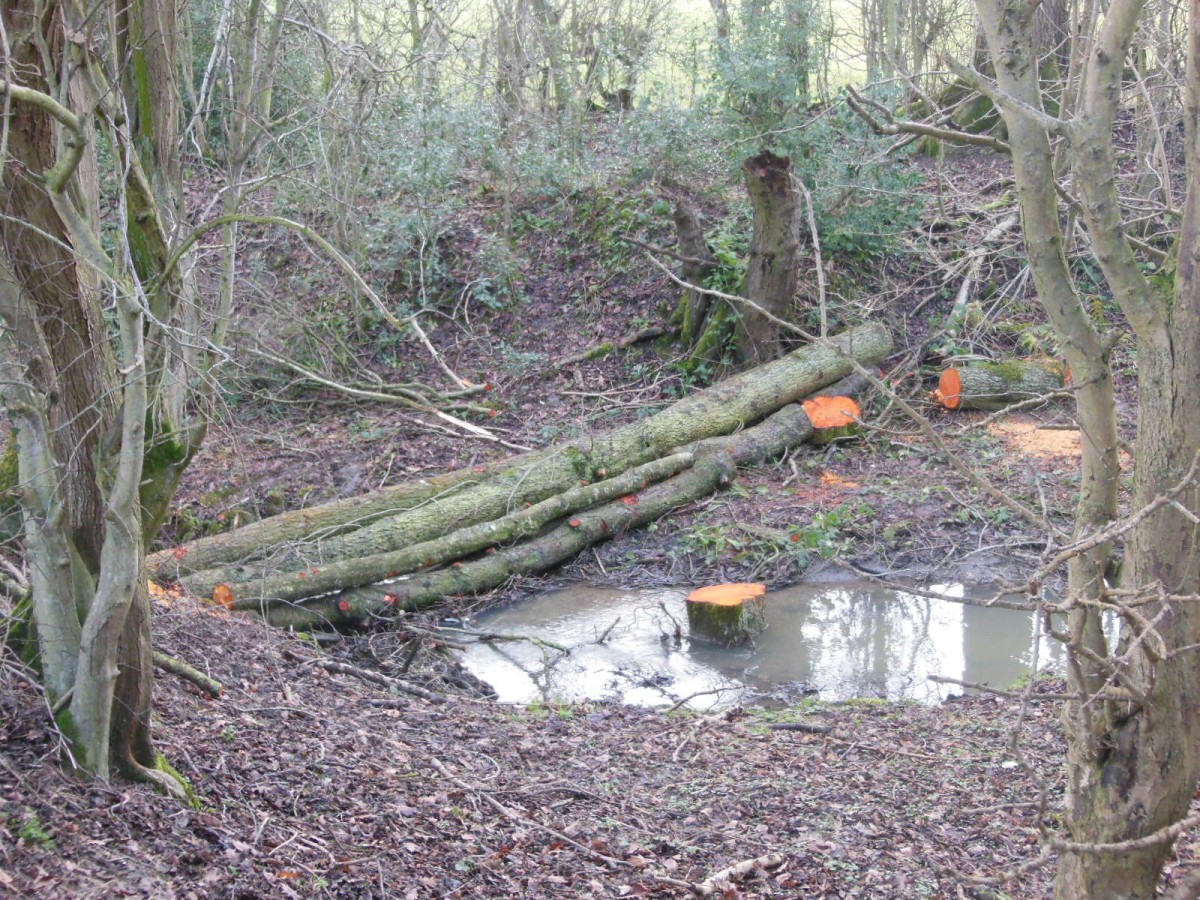 Small works carried out at a small cost are being constructed by the Shropshire Wildlife Trust on our behalf in the upper catchments of the River Corve and its tributaries and these will, by temporarily storing flood water, reduce the peak flood flows downstream.
Such works can include leaky dams, off course storage, hedge and tree planting, reduction of cattle poaching, aeration of soils so that they can absorb more water and so on. Apart from their prime purpose in flow reduction, such works can also result in improved farmlands with higher productivity.
These installations may sound so small as to be ineffective but when they are inserted in large numbers – 130 leaky dams below Wilderhope for example – they have a cumulative effect. Although such techniques – collectively known as Natural Flood Management – are quite new, such data as has been collected to date indicate that flood peaks can be reduced by around 10%. This can translate to a local flood peak level being reduced by say 3 or 4 inches and that could make the difference between your property being flooded or not.
None of this work could be carried out without the permission of the land owners.
2)            Clearing the watercourses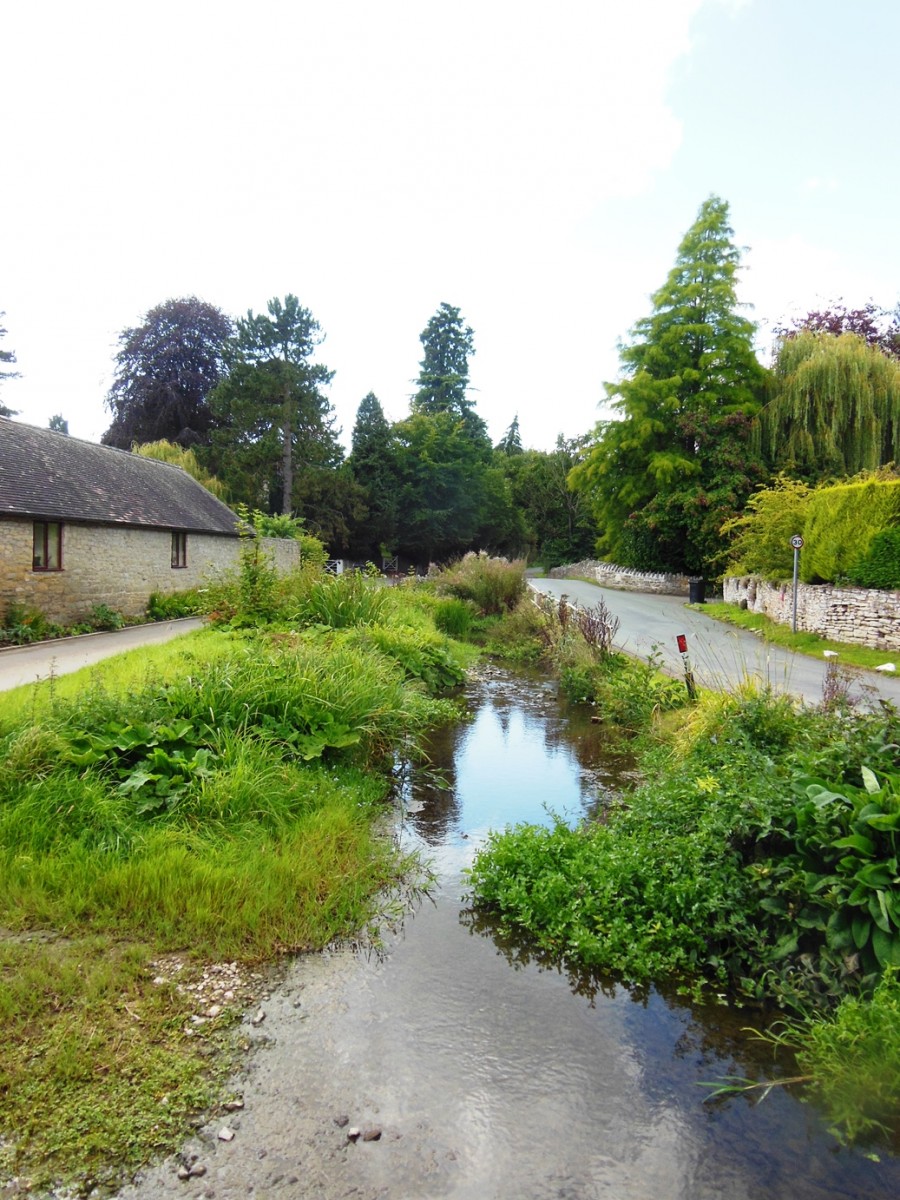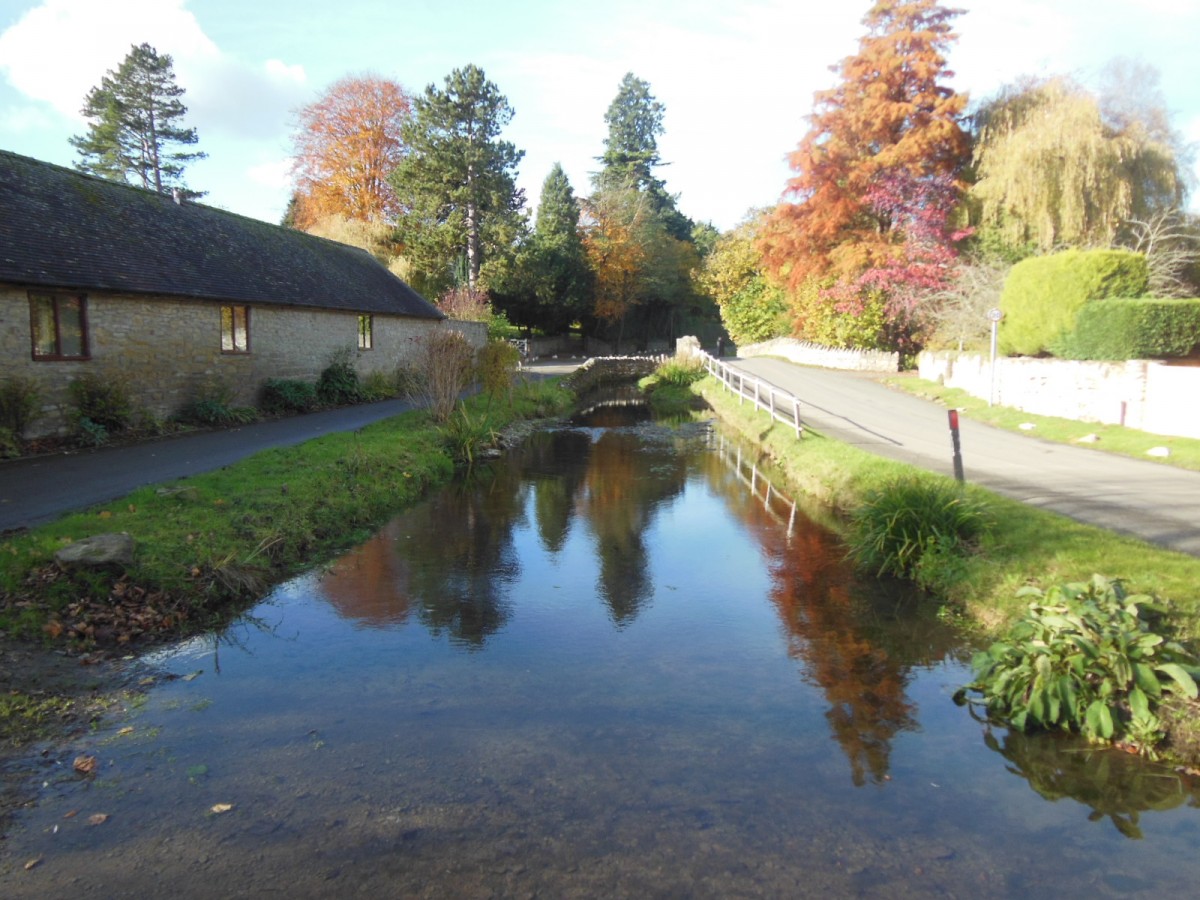 Before clearance                                                             After clearance     
Below a certain point in the catchment of each tributary, it becomes futile to build items such as leaky dams as by then, flood flows would wash them away. As streams enter built up areas therefore, a different approach is adopted whereby the existing watercourses are kept in such a condition that they can cope with as large a flood flow as possible. This means firstly keeping them clear of rubbish – both the stream beds and any associated culverts, drains and bridges. The stream beds and banks should be maintained by removing any build ups of silt in the beds and also taking back any banks encroaching into the stream bed – both by silt build up and excessive weed growth – so as to maintain the full stream width. Streams work best when they are straight so small kinks should if possible be straightened out. Such work will maximise the flow capacity of the watercourses. The FAG arranges regular working parties of volunteers to carry out all this maintenance work.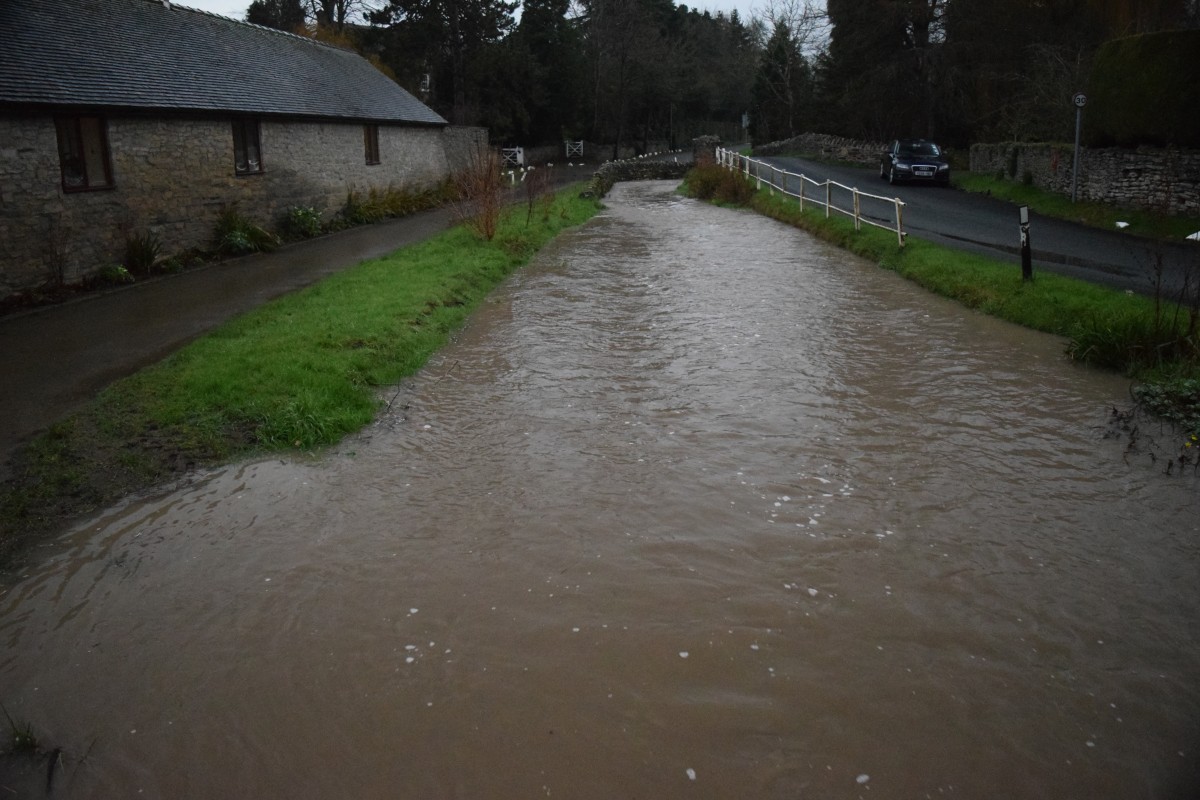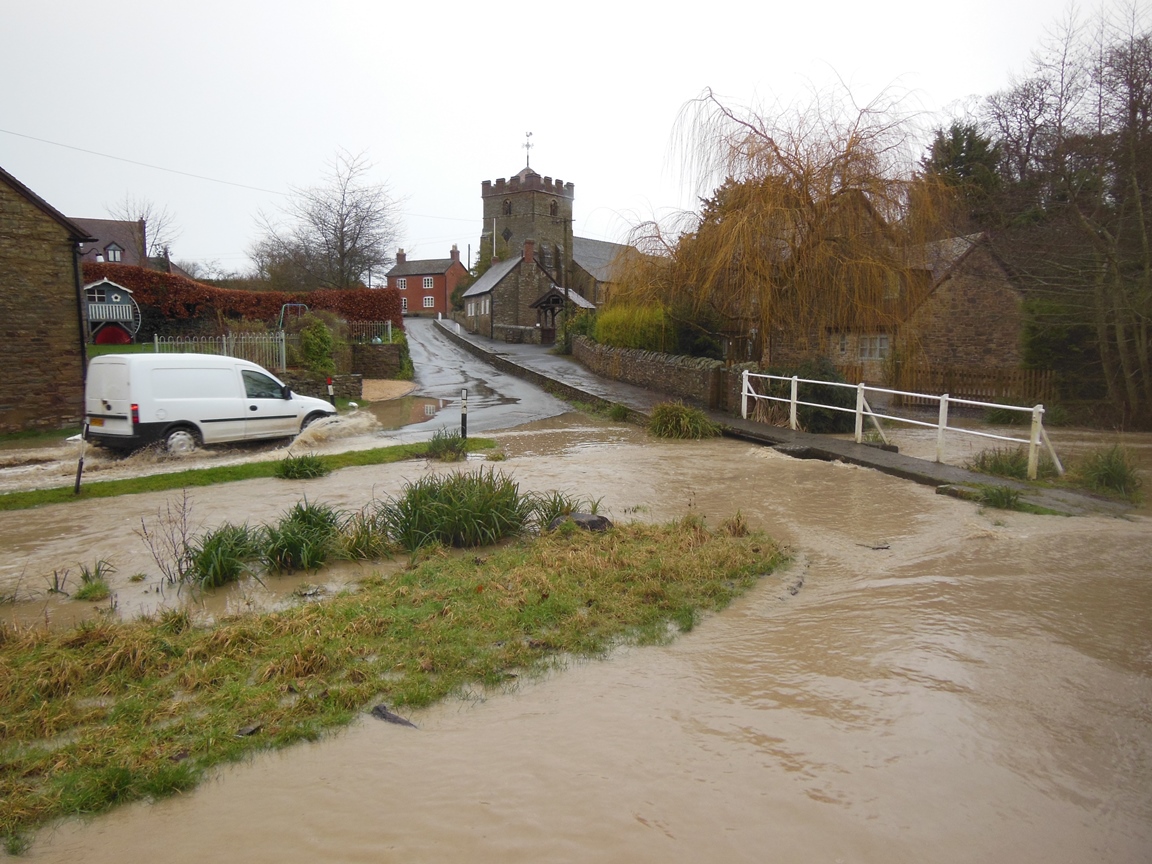 Better this…                                                                                                          than this
3)            Self help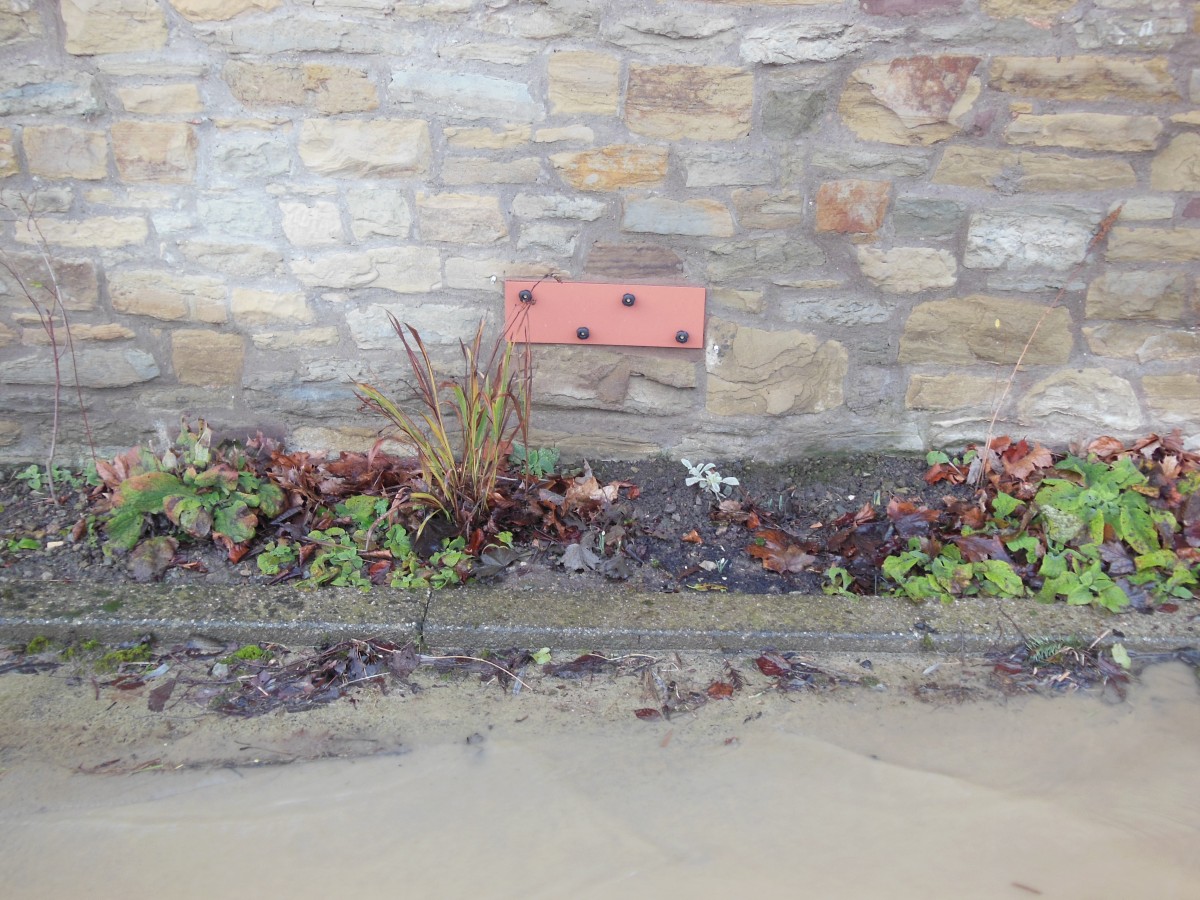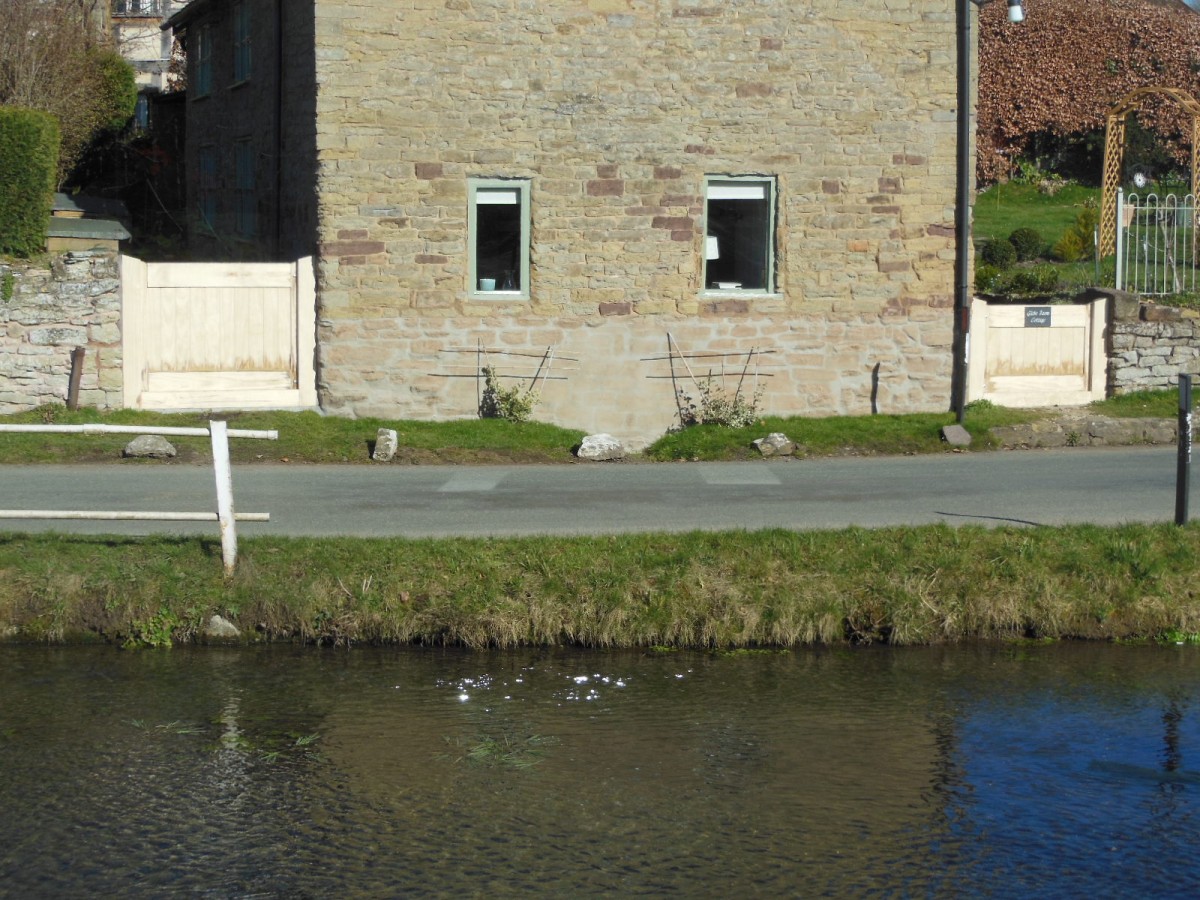 Air brick covers                                                                                        Flood gates and waterproof rendering
If, despite all the above, water overspills stream banks and flooding results, the onus is on the property owners to protect their properties. The Shropshire Council will on request send out a survey team to assess your property and make recommendations on how best to protect it. Grants are available for some items such as flood gates and waterproof rendering and sand bags are generally available locally on request to the Shropshire Council. There are depth gauges installed on the Diddlebury and Culmington Bridges and when flow levels reach a pre -  set alarm level, a message is sent out to the local FAG. If the flow continues to rise and triggers a second higher alarm level (which has been set at a level known by experience to cause flooding), a further message is sent and the FAG can alert those vulnerable properties identified on their Flood Resilience Plan to give them time to erect their defences.
4)            Insurance
If you live in a house that has previously flooded or that is shown to be within flood risk areas on the EA mapping, your Insurance Company may decline Cover or set a very high Premium. The Government has set up a flood insurance scheme called Flood Re which will offer reasonably priced cover to such properties. Details are available from the FAG.
5)            Permissions
All the smaller tributaries of the River Corve – the Diddle Brook, Seifton Brook, Pye Brook etc are what is known as Ordinary Watercourses and come within the jurisdiction of the Shropshire Council. The Corve itself and some of the lower parts of the tributaries are known as Main Rivers and come within the jurisdiction of the EA. The work of the FAG's falls mostly within Ordinary Watercourses and hence permissions are needed from the Shropshire Council before any works in the stream beds are carried out. Each such permission is called an Ordinary Watercourse Consent (OWC) and lasts for 3 years. The FAG can give advice on this aspect and information is also available on Shropshire Council's website; http://shropshire.gov.uk/drainage-and-flooding/development-responsibilit...
6)            Assistance and coordination
The FAG receives much help, encouragement and support from several different organisations and Agencies including:
•             Diddlebury Parish Council
•             Shropshire Wildlife Trust
•             National Flood Forum
•             Shropshire Council
•             Environment Agency
•             Severn Trent Water
•             The local farming community
•             Local land owners
Without this support, we could not function.
There exists an embryo Corvedale Forum which will eventually link up all the existing and future FAG's in the Corvedale to enable them to share common problems and solutions.
We maintain a Flood Action Plan which is kept up to date and which forms the Agenda for our regular Multi Agency Meetings.
With the kind assistance of the Diddlebury Parish Council, we vet all incoming Planning Applications in regard to flooding issues.
7)            Contact us
We have a dedicated page in the Diddlebury Parish Web Site at: http://www.diddleburyparish.co.uk/flood-action-group
This is kept up to date with news on events, progress reports, requests for volunteers and so on.
There are also frequent articles in the Corvedale News.
I can be contacted at: gneden@googlemail.com.
Geoff Neden
March
2018
Diddlebury Parish Council Flood Action Group
As we have been lucky enough to have had a dry period with no flood events, I thought I should just remind us all of what a flood event looks like. The following images are from 2007, 2008 and 2012.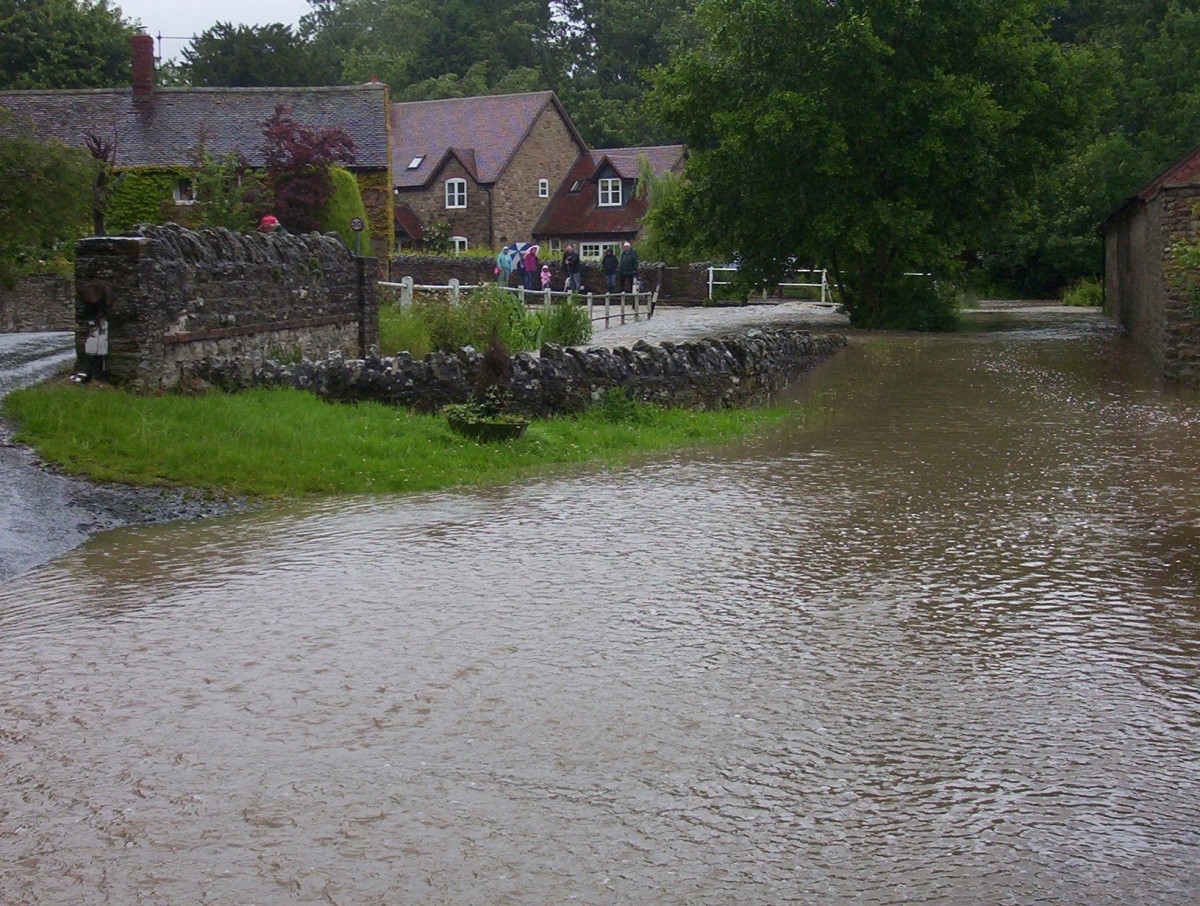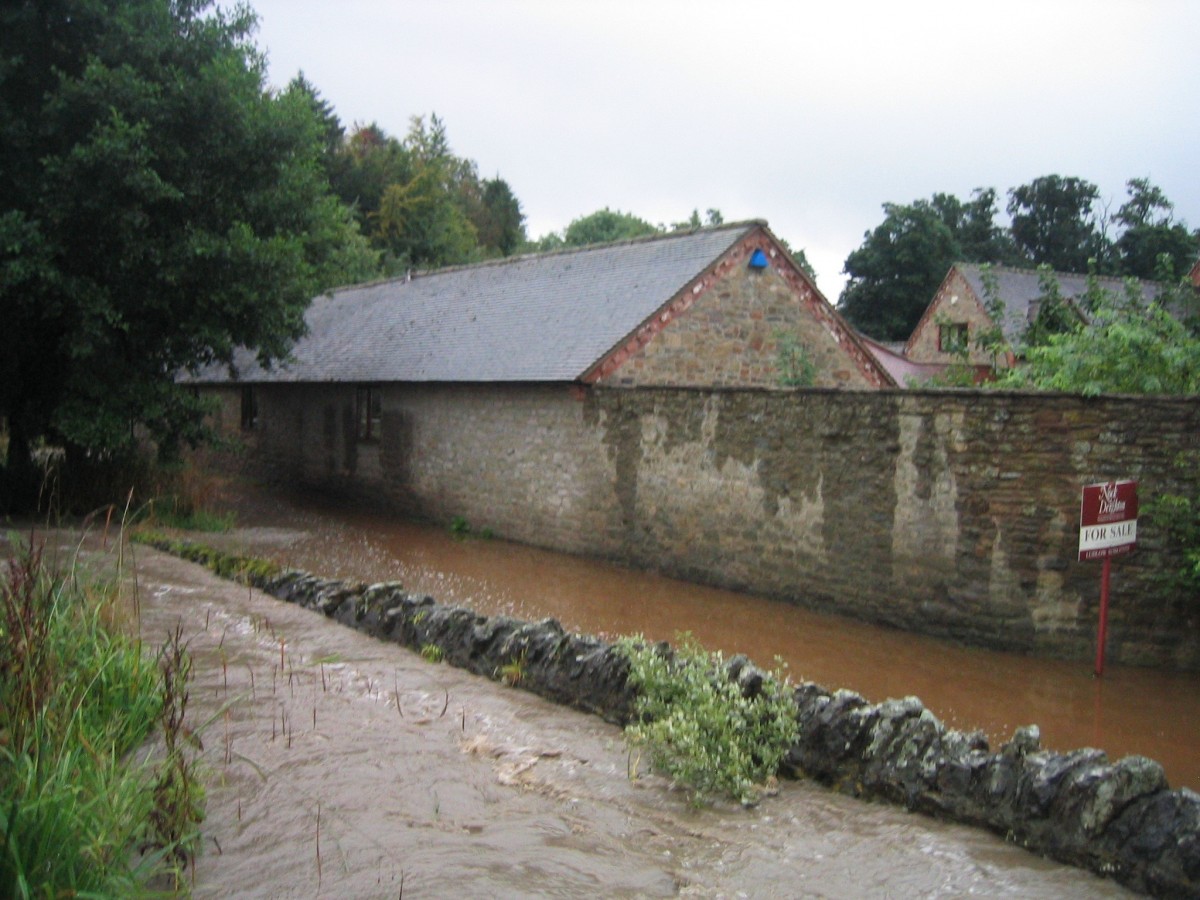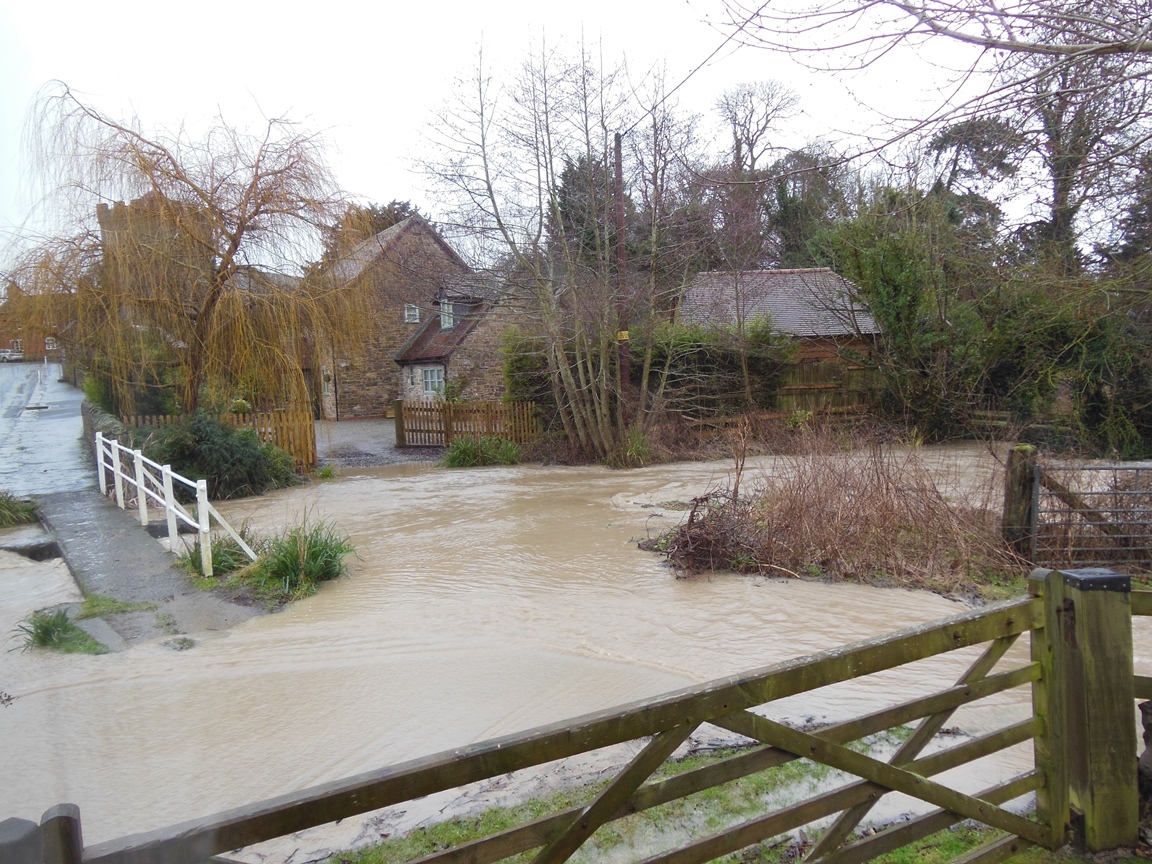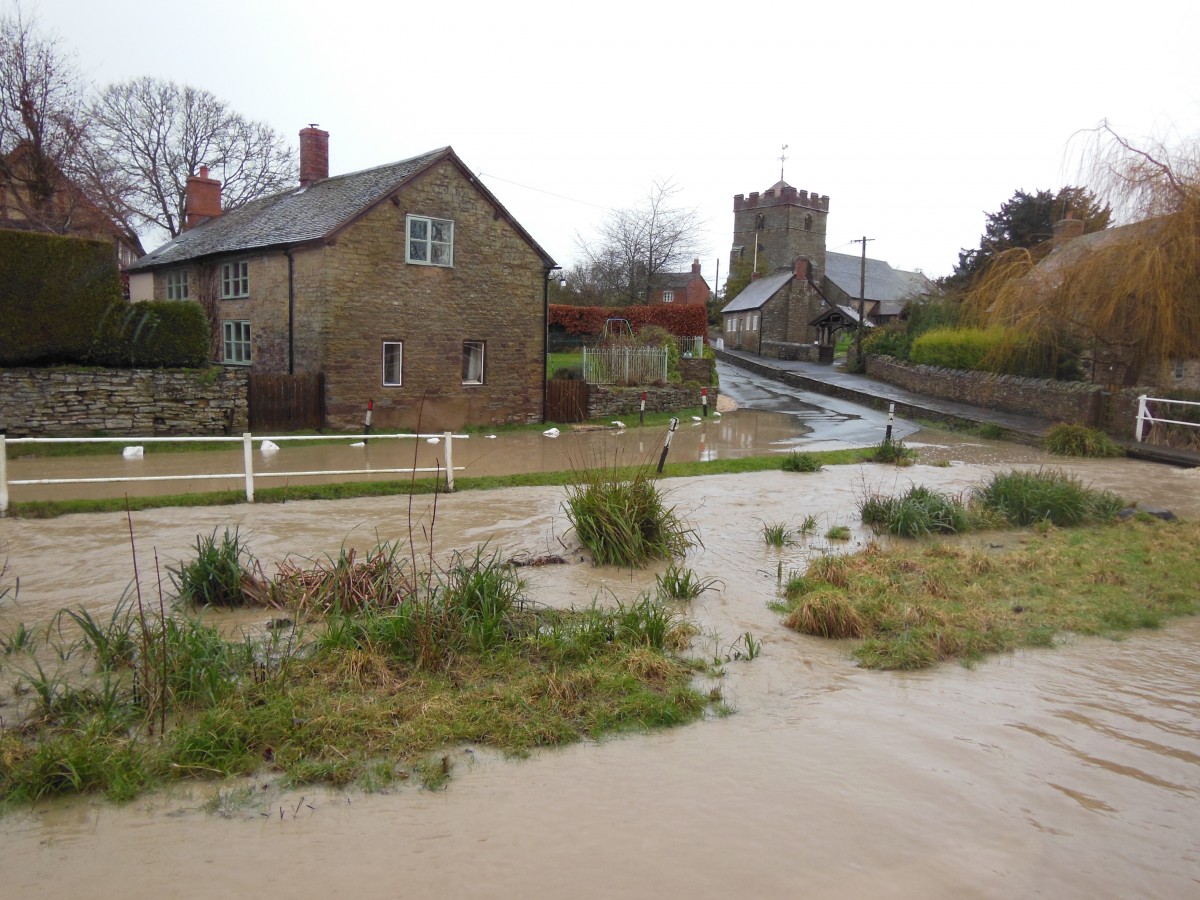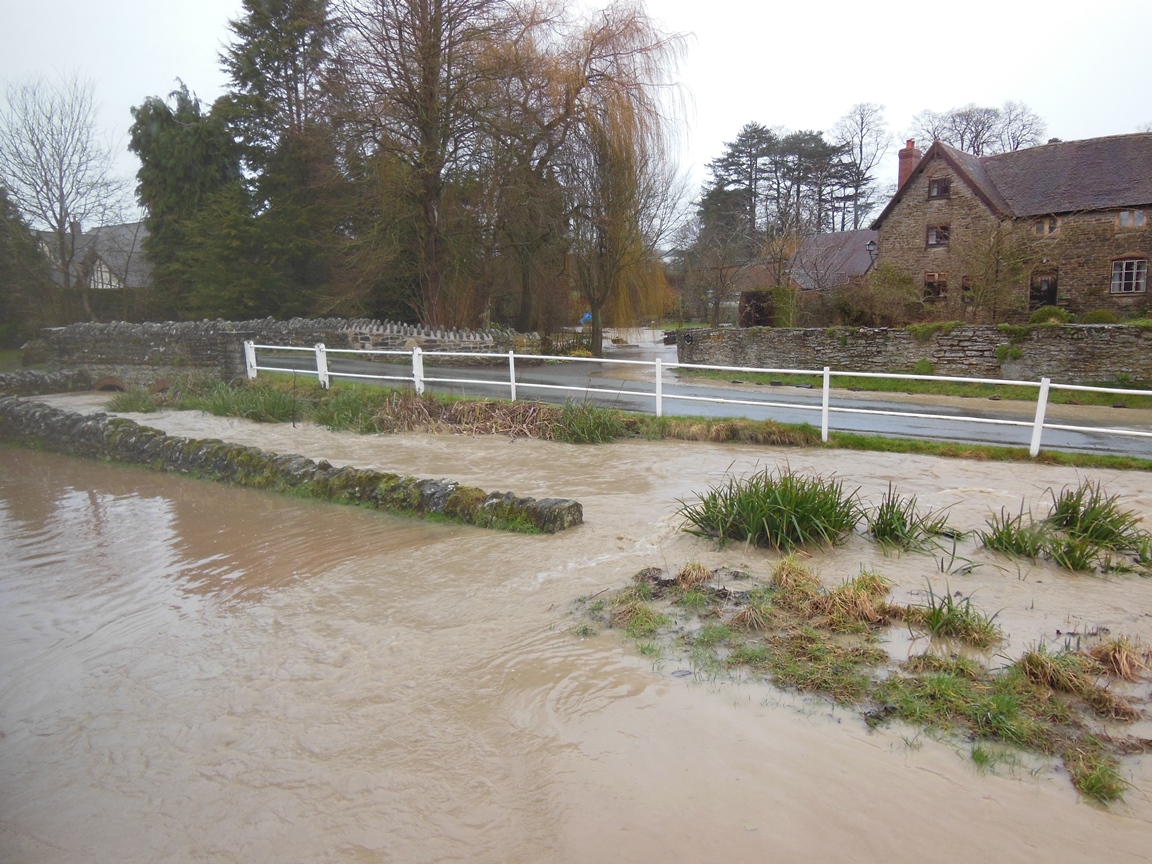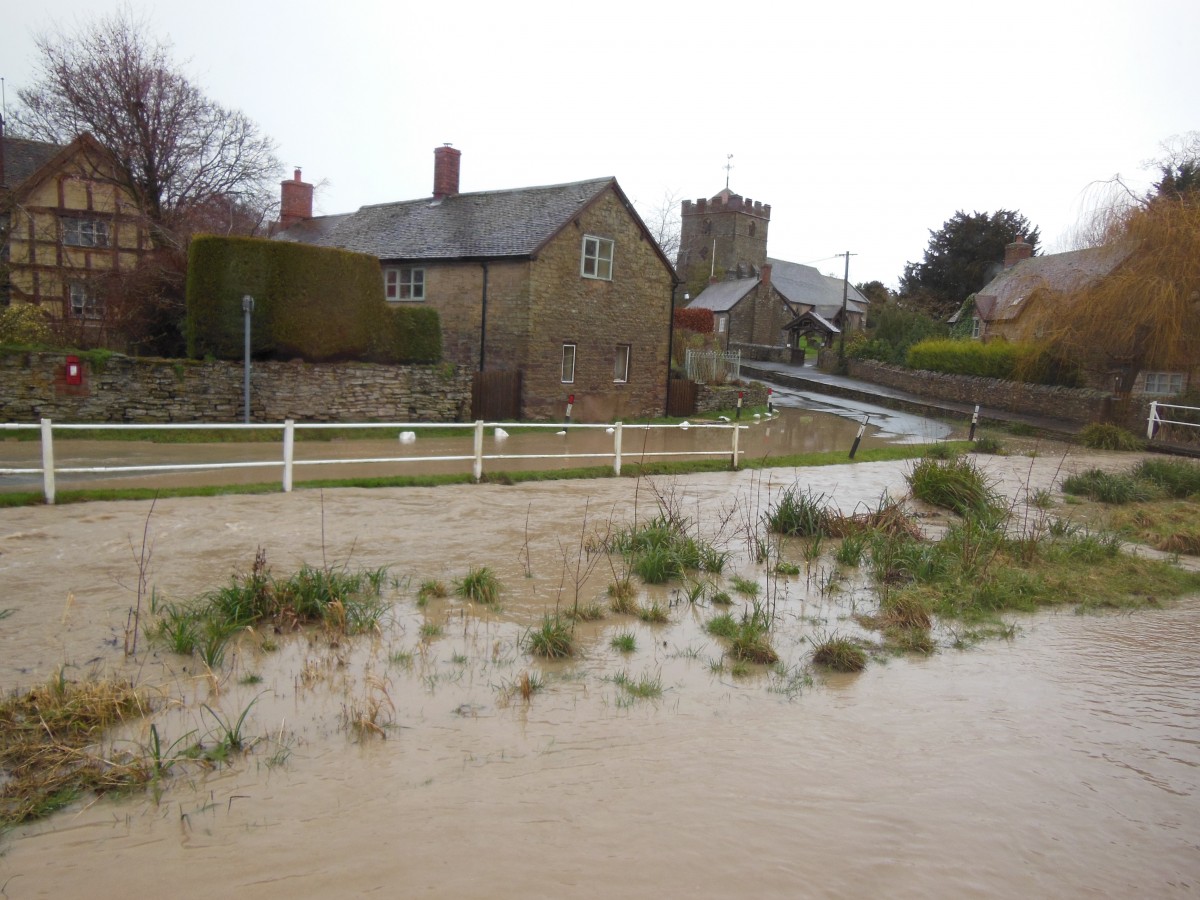 Diddlebury Parish Council Flood Action Group
Meeting held in Diddlebury Village Hall on Thursday 15th February 2018 on Shropshire Slow the Flow
Around 60 people attended the meeting including many members of the local farming community.
Andrew Osbaldison – catchment co-ordinator, Environment Agency - spoke first. He went through the new Farming Rules for Water which come into force on 2nd April. Afterwards, Andrew answered several questions from the floor.
Luke Neal – River Officer, Shropshire Wildlife Trust – then gave an overview of how Natural Flood Management, of which Slow the Flow is one important part, works and how effective it can be. He then gave an update on his present project in the Corvedale. Many leaky dams have already been installed in the Seifton Brook above Culmington and about 130 in the stream below Wilderhope Manor. Work starts on 21st February on the installation of 50 leaky dams in the Diddle Brook catchment above Diddlebury with the kind permission of Delbury Estates. Luke took several interesting questions from the floor and then showed an excerpt from the film "High Water Common Ground" which looks at Slow the Flow in practice around the Country and which included some clips about Culmington and Diddlebury.
Also present were James Turner of the Environment Agency and Anne Marie Jones who works with Catchment Sensitive Farming, run by Natural England. This organisation has grants available to carry out farm improvements with water quality benefits – yard concreting, feeder improvements, fencing, water storage etc. Her contact details are: anne-marie.jones@naturalengland.org.uk
I will provide further updates from time to time on the Corvedale Project.
Geoff Neden
16th February 2018
Diddlebury Parish Flood Action Group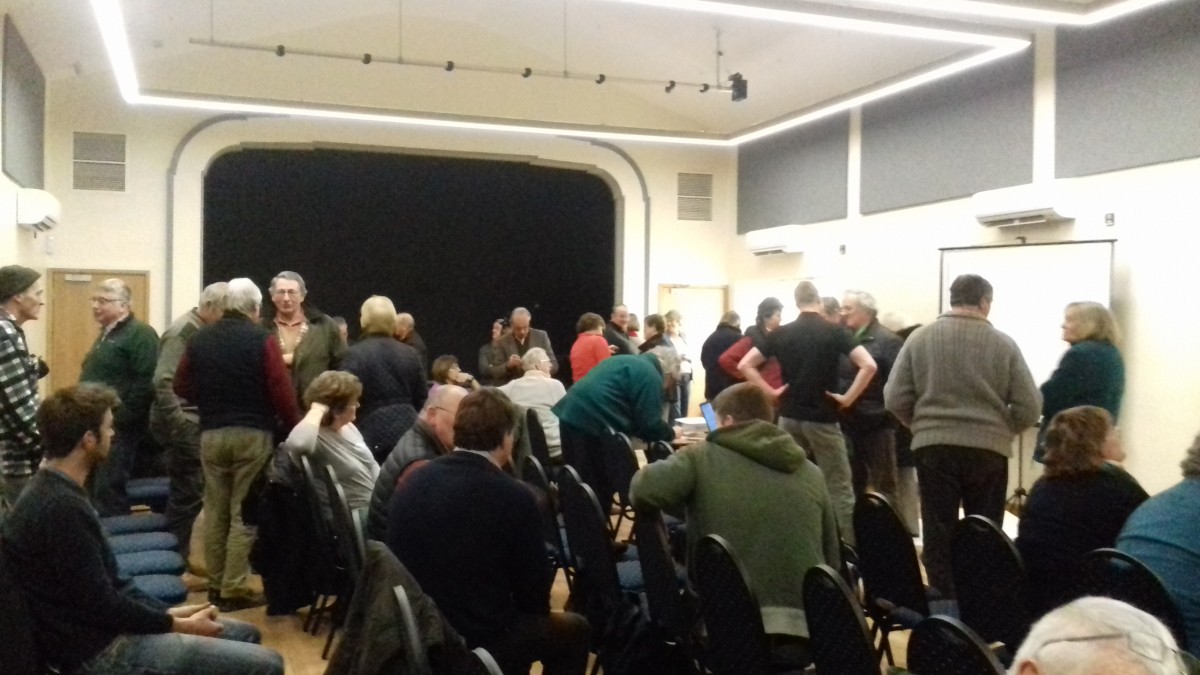 Diddlebury Parish Flood Action Group
News
The following images were taken at the recent meeting at Culmington Village Hall and subsequently at WestHope on the Seifton Bache when our local MP - Mr Philip Dunne, came to be briefed about the Slow the Flow concept and see it in action.
He subsequently wrote an Article on this topic which can be seen on the following link.
Slow the Flow in South Shropshire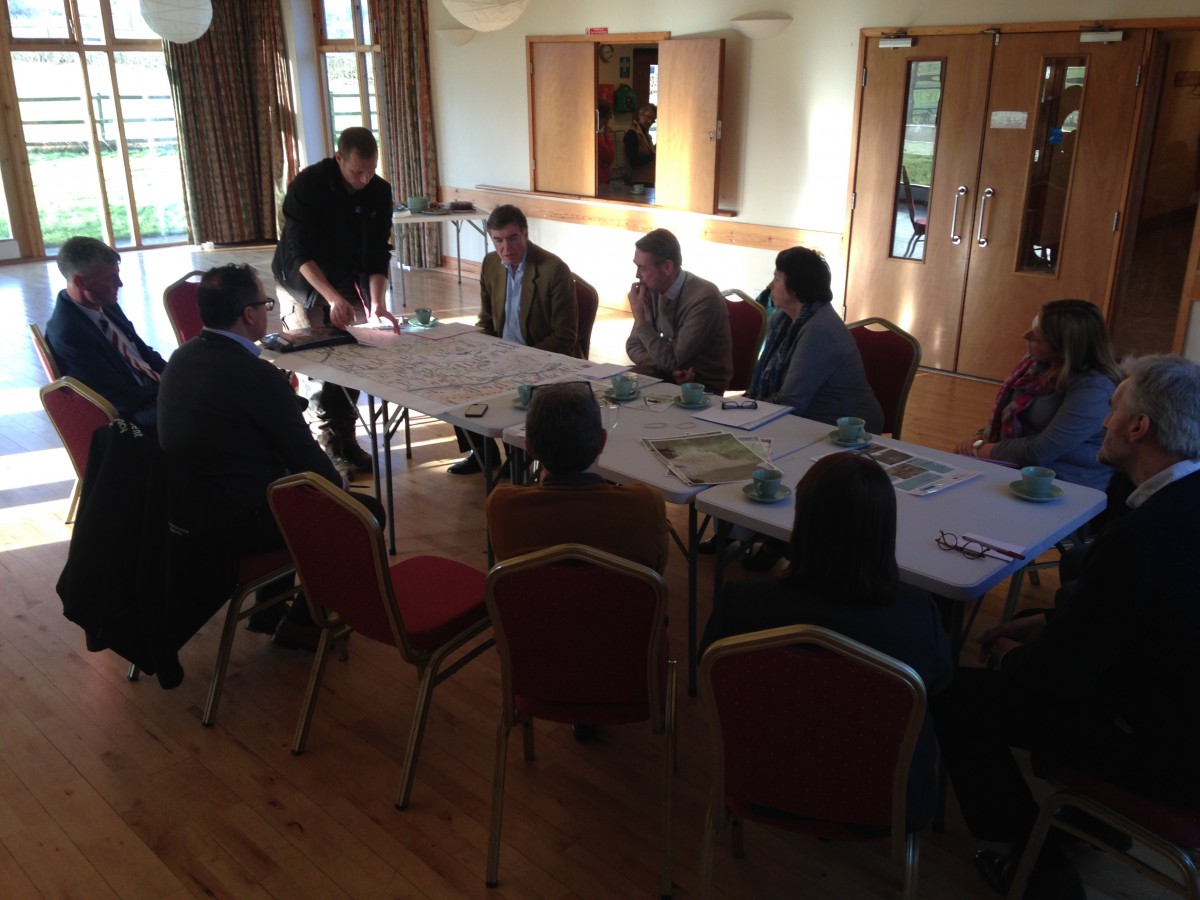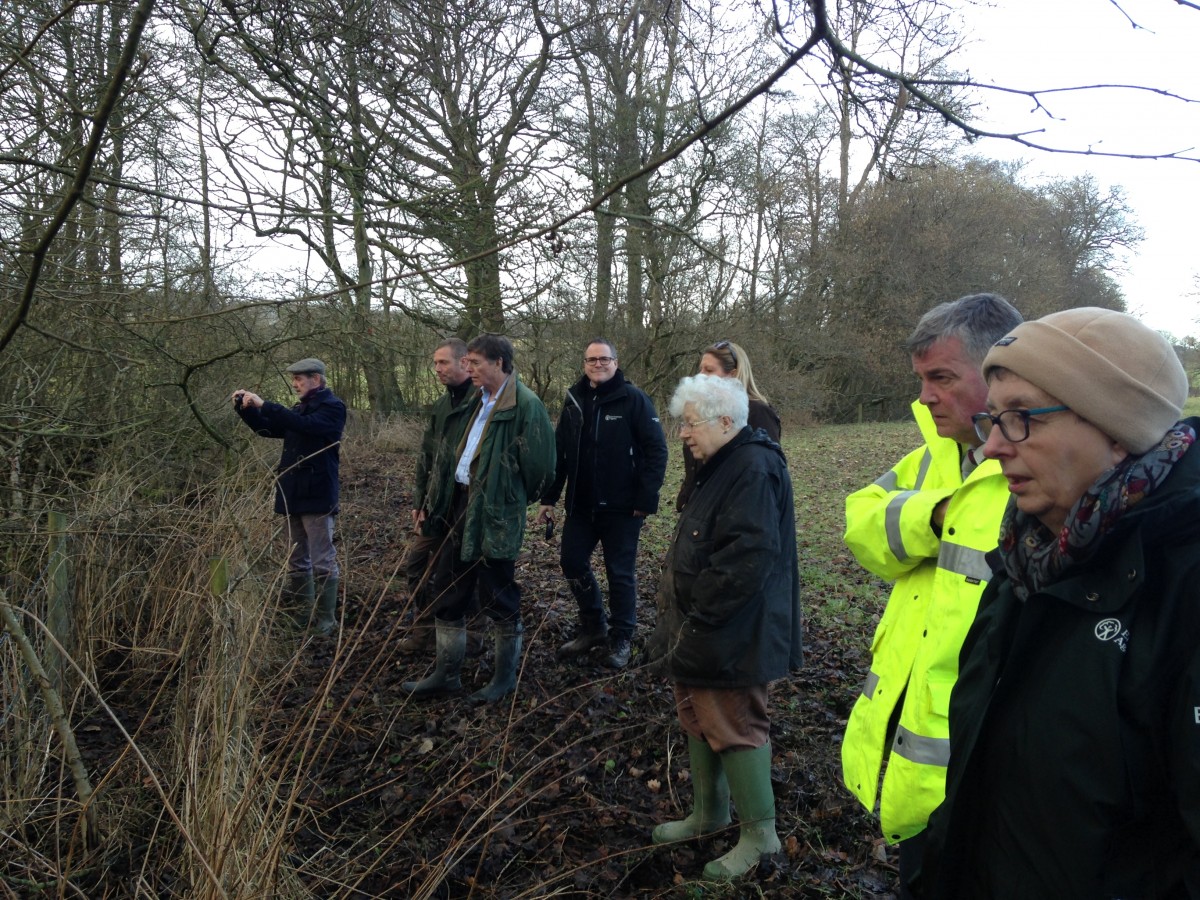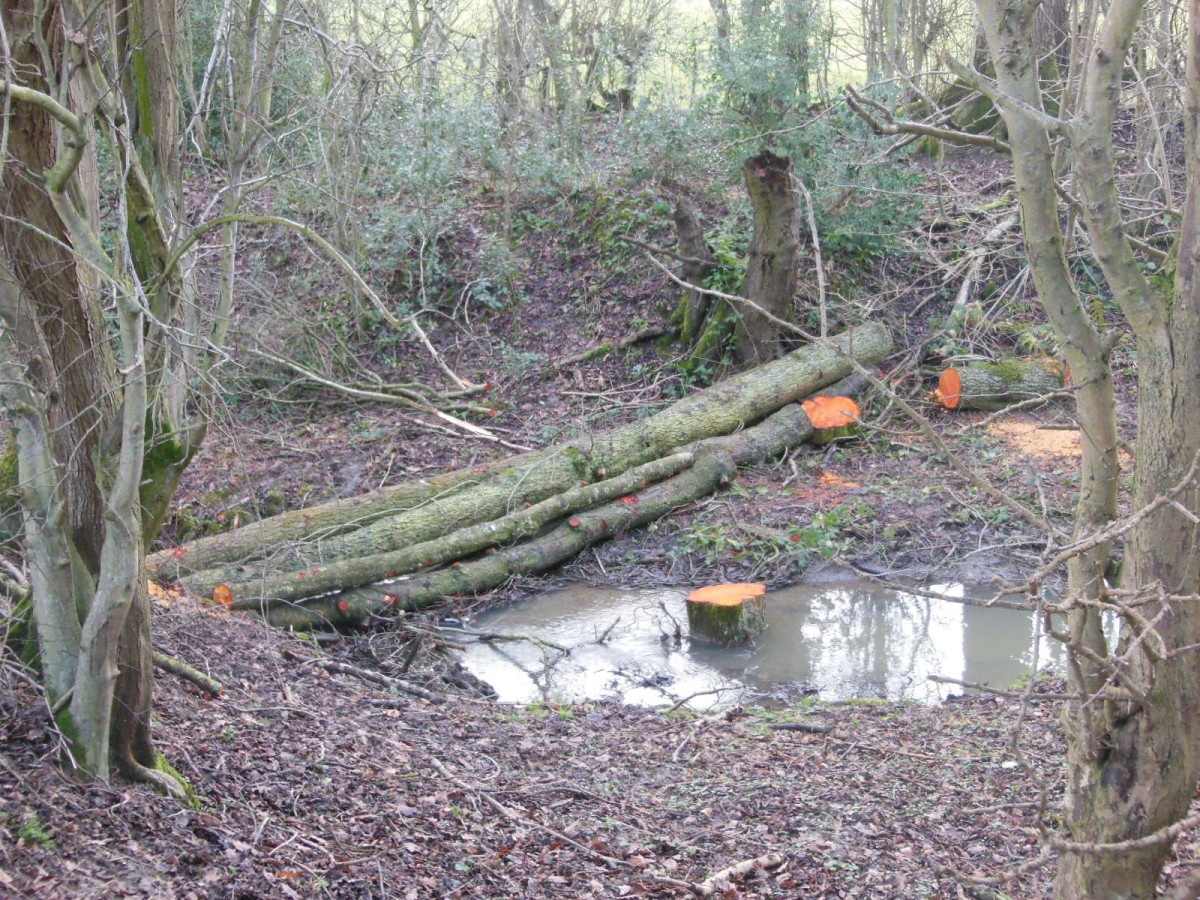 Geoff Neden
14th February 2018
Diddlebury Parish Flood Action Group
Diddlebury Parish Flood Action Group
Progress Report # 8 -  January 2018
The good news is that an Agreement has been reached with the local landowners which will allow a start on the construction of over 50 leaky dams in the Diddle Brook catchment in February.
Geoff attended a meeting held in Culmington on 26th January at which Mr Philip Dunne MP was briefed on the progress of the Slow the Flow project throughout the Corvedale. This was followed by a site inspection of the leaky dams already built in the Seifton Brook catchment. These have already worked well during recent rains. Mr Dunne was also acquainted with our concerns over the EA's proposed large increases in the cost of Consents to any works in Rivers. These increases of over 4 times the present costs would price small volunteer groups such as ours out of existence. He will take this up with the relevant Minister. At the same meeting, representatives from the EA confirmed that they were aware of these concerns, which had been expressed by many other similar groups  and that they would be addressed now that the Consultation period was over.
There will be a public Meeting at the Diddlebury Village Hall at 7.30pm on Thursday 15th February at which Luke Neal of the Shropshire Wildlife Trust will present an update on the Slow the Flow project in the Corvedale. This is probably the largest scheme of its kind in the UK.
The Parish Council now kindly send all Planning Applications to the Group for comment on the drainage aspects.
Geoff Neden
27th January 2018
Diddlebury Parish Flood Action Group
---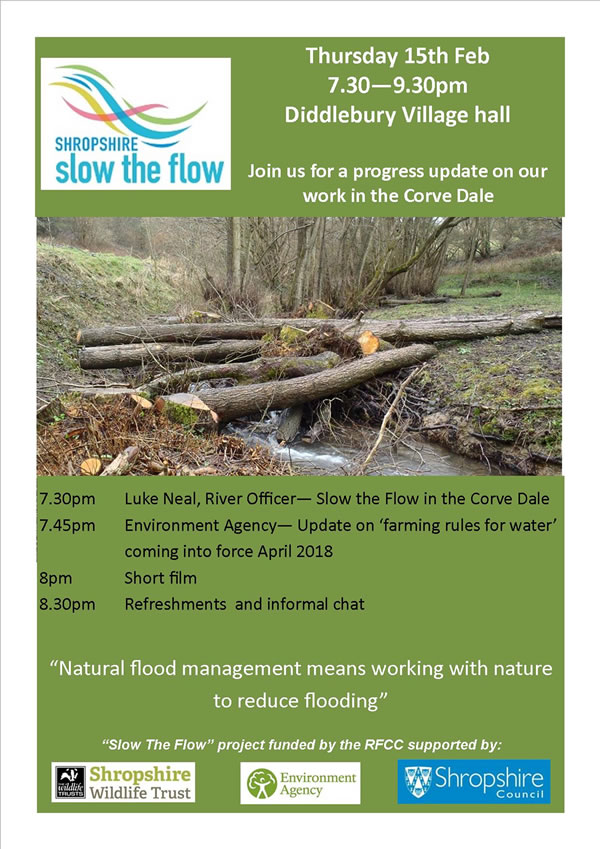 Diddlebury Flood Action Group
Notice of Meetings
Green Futures Seminar - 1st February, Craven Arms
The Environment Agency will be giving information to landowners and farmers about the next round of regulations and funding available at 7.00pm in the Craven Arms Community Centre.
Progress on Slow the Flow - 15th February, Diddlebury
A Progress Report on Slow the Flow in the Corvedale will be presented by Luke Neal of the Shropshire Wildlife Trust at the Diddlebury Village Hall at 7.30pm. The talk will be followed by a short film. Refreshments will be provided and after the film, Luke will be available for an informal chat
---
Diddlebury Flood Action Group
Work Party 22nd October 2017
Images