Clubs and Societies
Diddlebury Dancing Group - Ballroom and Latin Dancing meets every Wednesday at Diddlebury Village Hall at 8.00 pm. Except for the fourth Wednesday in the month when the class will be on a Tuesday.
Corvedale Badminton Club - meet Wednedays 8.30 pm to 10.00 pm at Craven Arms Community Centre
Corvedale Book Group - meet on Tuesday evening each month at Diddlebury Village Hall
Corvedale Folk Club - second Friday of every month 8.00pm at the The Sun Inn, Corfton
Corvedale Gardening Group - meet second Saturday of each month at Beambridge clubroom 10.30am to 12.00 am
U3A in Ludlow
Monthly Meetings 2018/19
 Date

Subject

Speaker

28.10.2019

A Guided Tour of the 1851 Exhibition

Recreated from contemporary documents by a past curator of the Ironbridge Gorge Museum.

David de Haan
25.11.2019

A 3,000 mile Solo Walk across Africa

by an acclaimed author and freelance writer.

Fran Sandham
Change of U3A monthly meeting venue – urgent!!
Those who attend U3A monthly meetings on the final Monday of most months will have noticed the state of flux at the Assembly Rooms, as a result of the major refurbishment project.  The work was due to end soon, but, we are informed, it has now been delayed and may go on beyond the summer of 2019.  You will know that our planned Study Group Fair has already been postponed because of the limited space.  U3A has now been told that, because other organisations will continue to use the reduced space during the renovation, it is not possible to guarantee that noise from the Studio above Oscar's or from the construction work in adjoining areas will not intrude on our monthly lectures, making listening difficult.  The committee has therefore reluctantly concluded that we will have to move our monthly meetings to another venue until the Assembly Rooms work has been completed.
Having considered a range of alternative venues, none of which is perfect, we have decided to move to the Mascall Centre for the time being.  The Centre has some parking of its own and there is a lot more available, fairly cheaply, at the Smithfield Car Park close at hand.  The Centre has agreed to open their café, which is normally closed on Mondays, to provide the usual refreshments before the talk. These refreshments will continue to be free to members. As in Oscars, numbers will be limited to 60 or 70.  There is no hearing loop.  And we shall need to change the timings, so that we start in the café at the new time of 10.30, with the talk beginning at 11 o'clock and concluding at noon. These new arrangements will come into effect immediately and so our first meeting of 2019 on 28 January will take place there.
The committee thinks the Mascall Centre will provide U3A with a good home until the renovation of the Assembly Rooms is completed.  The Centre was, after all, where U3A in Ludlow began life in 1997. Finally, given that some members do not to communicate by email, it would be very helpful if coordinators who have such members in their study groups could let them know about this venue change. 
Doubtless there will be some teething problems as we adjust to a new venue.  The committee will do its best to minimise them and hopes and believes you will continue to enjoy the monthly meetings.
Monday morning meetings in Ludlow Assembly Rooms start at 10.00 , enabling members to socialise, have a coffee and discover the latest news about study groups. Talks begin at 10:30 and usually finish by 11.45.
People who are not members are welcome to attend one meeting. Please introduce yourself to one of our Welcome hosts on arrival and sign our Visitors Book.
More information on Speakers is available on our web site    https://u3ainludlow.weebly.com/
---
The Arts Society Teme Valley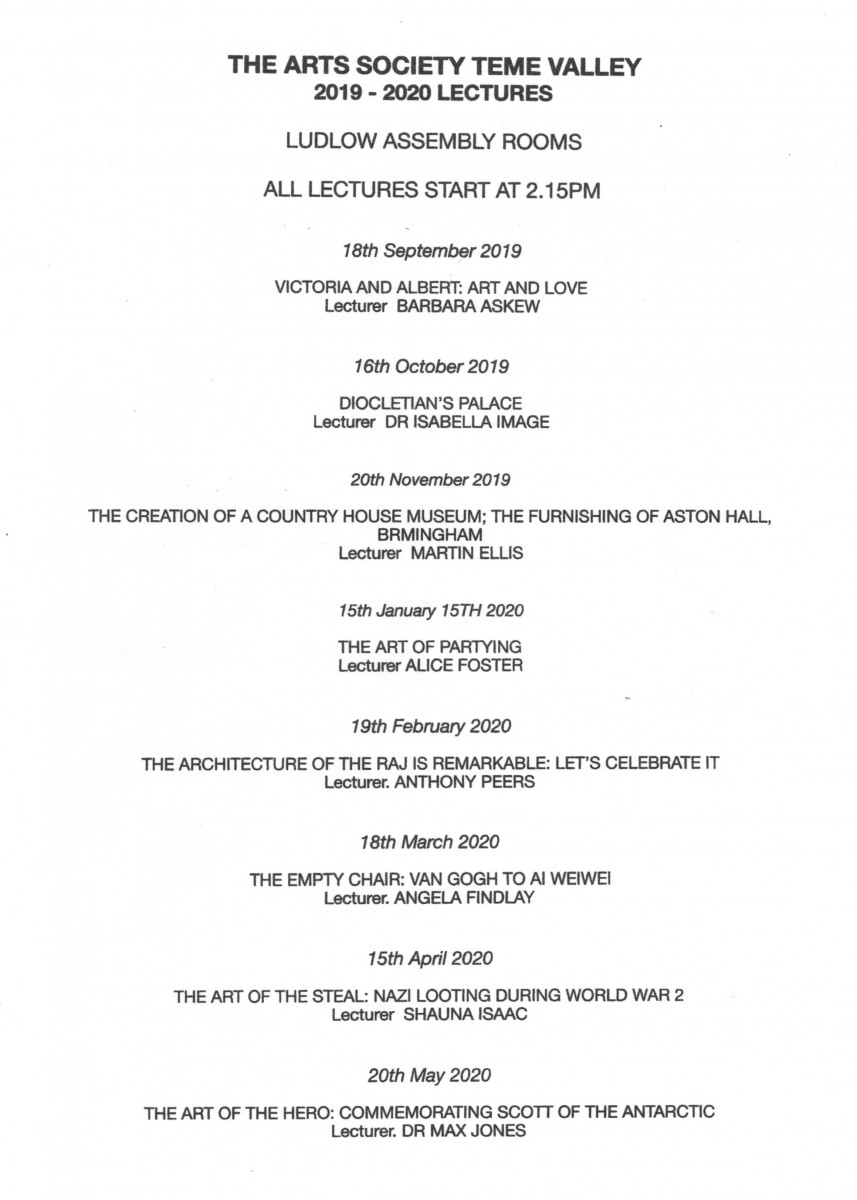 In addition to the above programme we arrange occasional Study Days.
Our next Study Day is on Friday 11th October.
Dr Stephen Kershaw will lecture on
'Beauty and the Bizarre: the Art of Hellenistic Greece'
The lectures will cover Hellenistic Sculpture, Architecture and Art and will examine the defining features of these areas during the first three centuries BC and seek a deeper understanding of this controversial period of Greek civilisation.
Dr Kershaw writes: 'The response to Greek art of this period from Alexander the Great to Cleopatra is often ambiguous: is it the pinnacle of Greek achievement or is it the artistic expression of a decaying, decadent culture? By shedding light on the development of portraiture, examining stunning words like the Great Altar of Zeus at Pergamon and the Laocoon, looking at some extraordinary painting and exploring some of the era's finest architectural achievements we will seek a deeper understanding of this controversial period of Greek civilisation'
Among other roles, Stephen Kershaw is a Classics tutor for Oxford University Department of Continuing Studies and may be familiar through his television appearances and his books about Greek and Roman civilisations which are the result of more than thirty years of travelling in and studying these fascinating areas.
The Study Day will be held at Cawley Hall, Eye nr Leominster from 10AM  - 3PM.
The cost will be £30 for members and £35 for non members and will include coffee/tea on arrival and a catered two course lunch.
Further details can be found on the booking form for this event which is on our website (see below) but if you would like more information contact the Study Day secretary
Avis Denny tel: 01568 780874 or email revdenny1@btinternet.com
Further details of each Lecture will be shown as they become available.
All meetings take place in the Ludlow Assembly Rooms. Doors open at 1.45. Lectures start promptly at 2.15. Lectures are followed by tea and coffee sessions
Visitors welcome - pay £8 at the door.
Further details on the Arts Society, Teme Valley can be found on our web site www.theartssocietytemevalley.org.uk.
NOTICE
Owing to renovation works currently being carried out by the Ludlow Assembly Rooms (LAR), from now until further notice, Lectures will take place in Oscars, NOT in the auditorium. The coffee and tea sessions after the Lectures will be held in the Studio. LAR will provide signage to enable visitors to find Oscars as the usual entrance will be closed.