Clubs and Societies
Diddlebury Dancing Group - Ballroom and Latin Dancing meets every Wednesday at Diddlebury Village Hall at 8.00 pm. Except for the fourth Wednesday in the month when the class will be on a Tuesday.
Corvedale Badminton Club - meet Wednedays 8.30 pm to 10.00 pm at Craven Arms Community Centre
Corvedale Book Group - meet on Tuesday evening each month at Diddlebury Village Hall
Corvedale Folk Club - second Friday of every month 8.00pm at the The Sun Inn, Corfton
Corvedale Gardening Group - meet second Saturday of each month at Beambridge clubroom 10.30am to 12.00 am
U3A in Ludlow
Monthly Meetings 2020
 Date

 

Subject

Speaker

27.01.2020

 

Easter Island - The Navel of the World

What better way to escape the winter than with a trip to the South Pacific! Photographer and adventurer Brian will 'transport' us all, via his fascinating illustrated talk, to Easter Island (Rapu Nui), where he recently spent time photographing its key historical and archaeological sites.

Brian will tell us the amazing story of the Rapanui who settled in this remote place and built the vast Moai statues, of their life on this inhospitable island and of the tragic downfall of their magnificent culture. Bringing us up to date he will tell us about the island's community today and of their efforts to protect and conserve the unique Rapa Nui cultural legacy stretching back over 800 years.

The talk will be richly illustrated with Brian's stunning photography – a treat not to be missed by armchair travellers and lovers of history and geography.

Brian Anderson

24.02.2020

 

Bees and their importance in the Environment

Professional beekeeper and multi-award-winning educator Alison Wakeman will share her knowledge and experience of bees and their by products.

Alison Wakeman
30.03.2020
 
U3A Fair and AGM
 

27.04.2020

 

Canals and Crime Fiction

The backdrop of author Andy Griffee's talk is our 2200 miles of canals and how they can be the perfect setting for the crime novel.

Andy Griffee

18.05.2020

 

Music in Art

Professional musician Sophie Matthews will explore the links between the visual and the aural, drawing on the works of great painters.

Sophie Matthews

29.06.2020

 

The work of a Practising Homeopath

Jeremy Derrick will talk about his personal and professional experience of homeopathy, explaining and illustrating how its approach may help and why it is valid for the 21st Century.

Jeremy Derrick

28.09.2020

 

Barrow to Baghdad and back again

Author of the Jack Castle series of novels, Philip Caine, will tell us about his adventurous life in the oil industry in distant places, which provided the inspiration for his adventure/thriller novels.

Philip Caine

26.10.2020

 

Albania - the Country cut off from the World for 41 years

John Butterworth will give an illustrated talk on the amazing history of this isolated State and compare life under a dictator to the freedoms of today.

John Butterworth

30.11.2020

 

Rolls of Rolls Royce

The biographer of Charles Rolls, Bruce Lawson, will tell us of Mr Rolls - "a brilliant man", "the Richard Branson or James Dyson of the Edwardian Age".

Bruce Lawson
Important Notice - U3A monthly meeting venue now back in the Assembly Rooms
Starting with the January Meeting, we will revert to the Assembly Rooms. Coffee will be available from 10.30 with the talk beginning at 11 o'clock.
People who are not members are welcome to attend one meeting. Please introduce yourself to one of our Welcome hosts on arrival and sign our Visitors Book.
More information on Speakers is available on our web site    https://u3ainludlow.weebly.com/
---
The Arts Society Teme Valley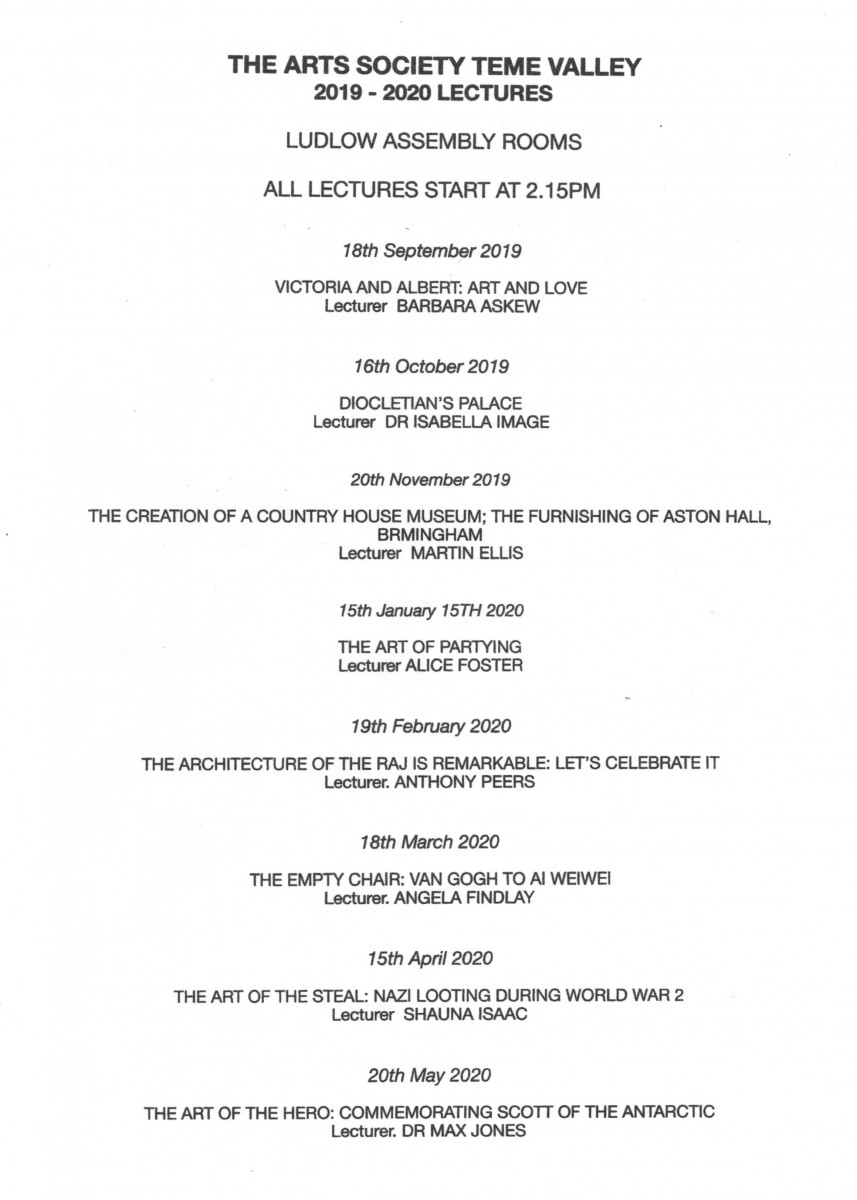 ---
In addition to the above programme we arrange occasional Study Days.
OUR NEXT STUDY DAY WILL BE HELD ON WEDNESDAY 4TH MARCH 2020
The Subject will be:
The Arts and Crafts Movement in the Midlands
By
Sally Hoban
Designers from the Arts and Crafts Movement such as William Morris are well known but the Midlands made a huge contribution to the movement as well. Designers at The Bromsgrove Guild of Handicrafts, for example, produced the exquisite wrought iron gates for Buckingham Palace.
Three lectures will set the work of Midlands designers in the context of the national Arts and Crafts Movement using the examples of jewelry made by Arthur and Georgina Gaskin, stained glass by Florence Cam, ceramics from the Ruskin Pottery and more.
We will also hear about the best locations in the region to see examples of Arts and Crafts design.
The Study Day will be held at Cawley Hall, Eye nr Leominster from 10AM  - 3PM.
The cost will be £30 for members and £35 for non members and will include coffee/tea on arrival and a catered two course lunch.
Further details will be included on the booking form for this event which will shortly be posted on our website (see below) but if you would like more information contact the Study Day secretary
Avis Denny tel: 01568 780874 or email revdenny1@btinternet.com
---
Further details of each Lecture will be shown as they become available.
All regular meetings take place in the Ludlow Assembly Rooms. Doors open at 1.45. Lectures start promptly at 2.15. Lectures are followed by tea and coffee sessions
Visitors welcome - pay £8 at the door.
Further details on the Arts Society, Teme Valley can be found on our web site www.theartssocietytemevalley.org.uk.
NOTICE
Owing to renovation works currently being carried out by the Ludlow Assembly Rooms (LAR), from now until further notice, Lectures will take place in Oscars, NOT in the auditorium. The coffee and tea sessions after the Lectures will be held in the Studio. LAR will provide signage to enable visitors to find Oscars as the usual entrance will be closed.