Clubs and Societies
Diddlebury Dancing Group - Ballroom and Latin Dancing meets every Wednesday at Diddlebury Village Hall at 8.00 pm. Except for the fourth Wednesday in the month when the class will be on a Tuesday.
Corvedale Badminton Club - meet Wednedays 8.30 pm to 10.00 pm at Craven Arms Community Centre
Corvedale Book Group - meet on Tuesday evening each month at Diddlebury Village Hall
Corvedale Folk Club - second Friday of every month 8.00pm at the The Sun Inn, Corfton
Corvedale Gardening Group - meet second Saturday of each month at Beambridge clubroom 10.30am to 12.00 am
U3A in Ludlow
Monthly Meetings 2020
NOTICE
ALL MEETINGS FROM NOW - MARCH 17TH - ARE NOW CANCELLED DUE TO THE CORONAVIRUS UNTIL FURTHER NOTICE
 Date

 

Subject

Speaker

30.03.2020
 
U3A Fair and AGM - CANCELLED DUE TO CORONAVIRUS
 

27.04.2020

 

Canals and Crime Fiction

The backdrop of author Andy Griffee's talk is our 2200 miles of canals and how they can be the perfect setting for the crime novel.

Andy Griffee

18.05.2020

 

Music in Art

Professional musician Sophie Matthews will explore the links between the visual and the aural, drawing on the works of great painters.

Sophie Matthews

29.06.2020

 

The work of a Practising Homeopath

Jeremy Derrick will talk about his personal and professional experience of homeopathy, explaining and illustrating how its approach may help and why it is valid for the 21st Century.

Jeremy Derrick

28.09.2020

 

Barrow to Baghdad and back again

Author of the Jack Castle series of novels, Philip Caine, will tell us about his adventurous life in the oil industry in distant places, which provided the inspiration for his adventure/thriller novels.

Philip Caine

26.10.2020

 

Albania - the Country cut off from the World for 41 years

John Butterworth will give an illustrated talk on the amazing history of this isolated State and compare life under a dictator to the freedoms of today.

John Butterworth

30.11.2020

 

Rolls of Rolls Royce

The biographer of Charles Rolls, Bruce Lawson, will tell us of Mr Rolls - "a brilliant man", "the Richard Branson or James Dyson of the Edwardian Age".

Bruce Lawson
Important Notice - U3A monthly meeting venue now back in the Assembly Rooms
Starting with the January Meeting, we will revert to the Assembly Rooms. Coffee will be available from 10.30 with the talk beginning at 11 o'clock.
People who are not members are welcome to attend one meeting. Please introduce yourself to one of our Welcome hosts on arrival and sign our Visitors Book.
More information on Speakers is available on our web site    https://u3ainludlow.weebly.com/
---
The Arts Society Teme Valley
NOTICE
As part of the coronavirus precautions, the Committee has decided to cancel the Lecture planned for 18th March. News on subsequent lectures will follow.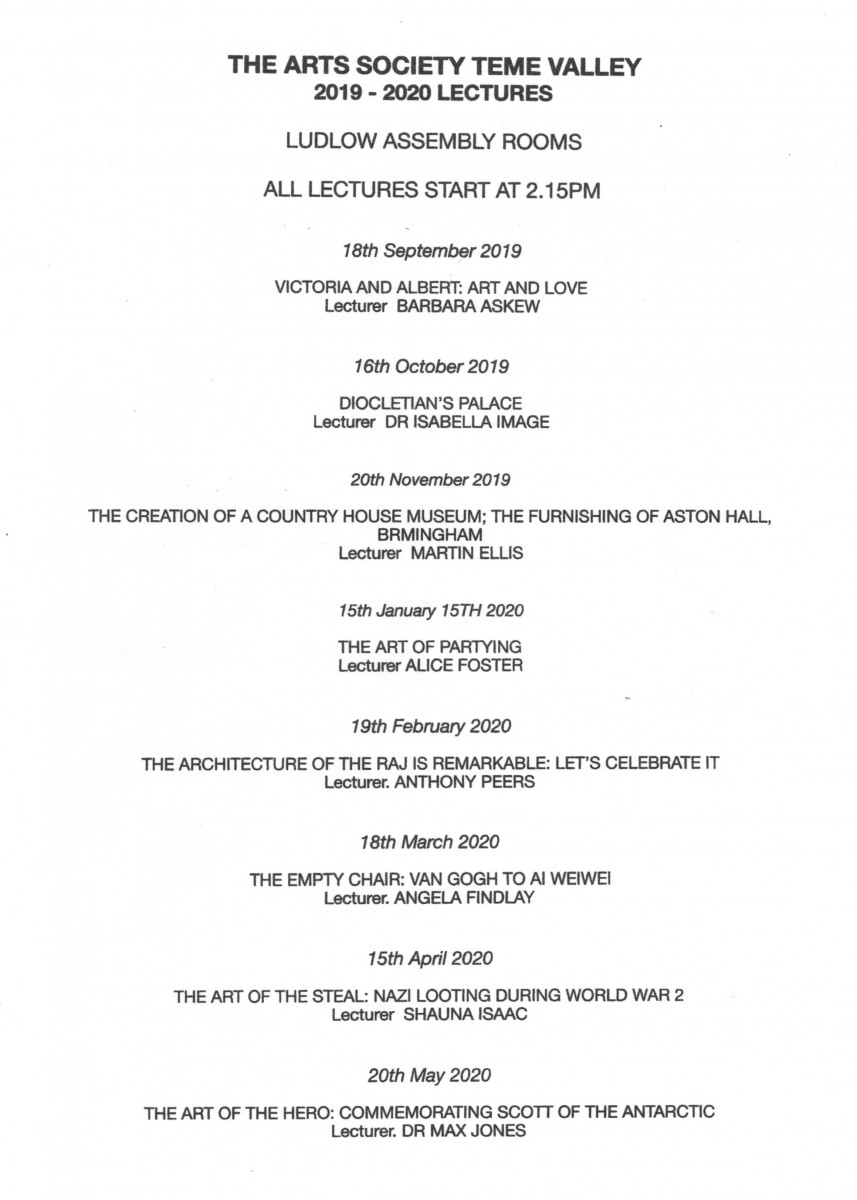 ---
In addition to the above programme we arrange occasional Study Days. Full details are available on our web site : theartssocietytemevalley.org.uk
NOTICE
Owing to renovation works currently being carried out by the Ludlow Assembly Rooms (LAR), from now until further notice, Lectures will take place in Oscars, NOT in the auditorium. The coffee and tea sessions after the Lectures will be held in the Studio. LAR will provide signage to enable visitors to find Oscars as the usual entrance will be closed.