Diddlebury Parish Flood Action Group
Drainage work in Lower Corfton
Following a site meeting earlier in the year, the Highways Dept. arrived with a JCB on Friday 18th September.
They carried out useful work as follows:
Cleaned out and extended the pond at the low spot to further its use as an attenuation pond in Slowing the Flow.
Located and checked the size and condition of the pipe/duct beneath the road at the low spot.
Cleared the upstream end of this pipe/duct and provided a temporary concrete cover for the adjacent chamber
Cleaned out and provided temporary concrete covers for chambers found near the pond.
Created new ditches to divert water from the road and the adjacent field into the pipe/duct beneath the road.
Confirmed that it is their intention that new, permanent metal chamber covers will eventually be provided to the newly discovered chambers and also the one at the upstream end of the pipe/duct beneath the road to facilitate future de silting and rodding exercises.
Confirmed that Highways Dept. will approach the farmer who owns the field upstream of the pipe beneath the road and try to gain his permission to carry out improvement works to the watercourse in that field which carries water from the B Road across it to the pipe/duct beneath the road.
Suggested that more de silting work may be necessary in the watercourse downstream of the pipe/duct beneath the road.
The following images show some of the work done.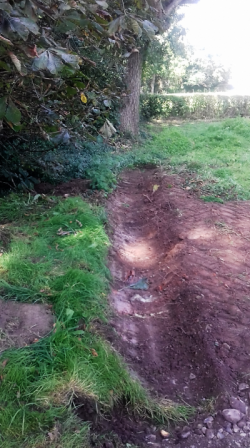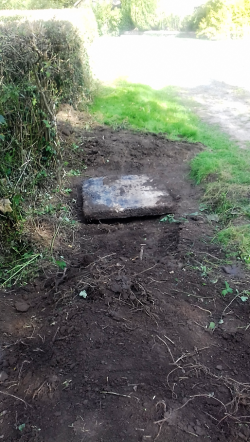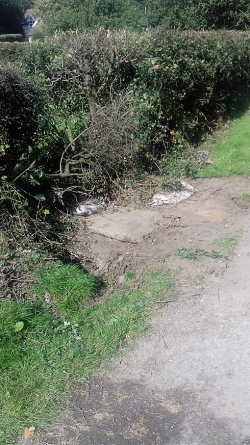 Geoff Neden
28th September 2020   
---
Diddlebury Parish Flood Action Group
Progress Report 16 including the recent desilting exercise.
As our normal working parties were unable to operate this year due to the Covid 19 problem, weed growth in the stream at the bottom of Mill Lane, Diddlebury became excessive with encroachment right across the watercourse.
In addition, the stream bed had a deposition of excess gravel brought down by Storm Dennis in February.
To get all this cleared away in advance of winter storms, a desilting exercise was carried out on Tuesday 8th September under the Ordinary Watercourse Consent (OWC) granted for similar work in 2018 and which was still current. The work had to be completed before 1st October when fish spawning begins.
The scale of the work was such that it could no longer be tackled by normal means and machinery was needed. With the kind assistance of Topher Morgan, Andy Farnell and Patrick Wrigley, a tractor and trailer and a Mini Digger were used – all expertly driven by Andy. At the same time, local volunteers were on site directing traffic and strimming the banks.
The following "Before" and "After" images show what a huge difference was made and the stream is now ready for winter flows.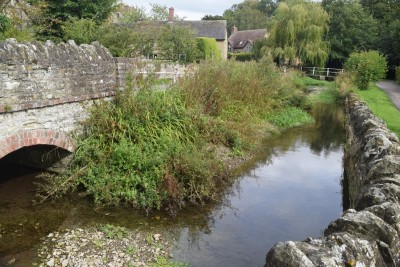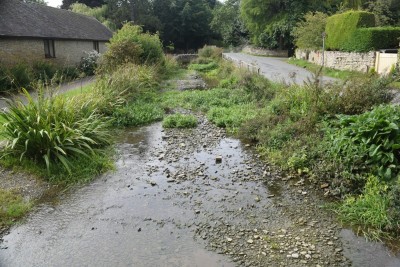 Before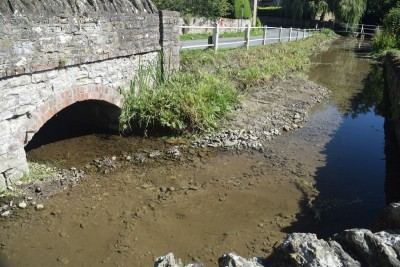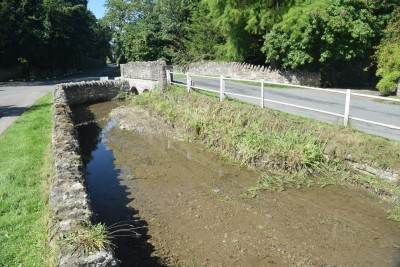 After
Otherwise, the Group has joined the recently formed Shropshire Flood Action Group Forum (SFAGF) which is intended as both a pressure group to get action from the various Agencies involved in flood prevention and to act as a forum for the exchange of ideas between the member Groups. This has been arranged under the auspices of the National Flood Forum (NFF).
Geoff Neden
09/09/2020
---
Diddlebury Parish Flood Action Group
Circular from Shropshire Council regarding assistance after Storm Dennis
This is being placed on the web page in case there are any members of the community who suffered from flooding during Storm Dennis and might be eligible for assistance but who have not yet registered with the Council
Dear resident,
You are being contacted as you have registered yourselves as having been affected by the recent flooding that affected large parts of Shropshire.
As you may be aware in addition to the hardship grant and Council Tax reductions for residential properties, and business rates relief available to businesses, the Ministry of Homes Communities and Local Government (MHCLG) recently published the Property Level Resilience Recovery Support Scheme 2020 for property and business owners who were internally flooded during Storm Dennis an subsequent widespread flooding across the County. Whilst this funding is being made available by Central Government it is being distributed by Shropshire Council.
The scheme provides up to £5000 towards making your property or business more resistant or resilient to future flood events though the installation of Property Flood Resilience (PFR) measures. These measures can include flood resistant door barriers and air brick covers to manage the amount of flood water entering the property, or the raising of electrics above the flood level and the replacement of carpets with tiling to make it easier to return a property to normal after a flood. Other resistance and resilience measures are available depending on the type of property and source of flooding.
To ensure that PFR measures are appropriate for your property, and to ensure that they will be effective in delivering flood resistance or resilience, the guidance provided by MHCLG states that a survey, undertaken by a suitably qualified surveyor is required before funding can be made available. Shropshire Council are currently working with MHCLG and the Environment Agency to deliver this funding as soon as possible, however with the current restrictions on non-essential travel and social distancing in response to Covid19, the delivery of this project at present is extremely difficult.
Shropshire Council will contact you again as soon as more information is available on how this project can be delivered within current guidelines. Whilst it is understood that you may wish to take action to protect your property as soon as possible, please be aware that it may not be possible to claim the costs of PFR measures retrospectively if you choose to purchase these prior to funding being approved.
I hope that you can understand the above position. Shropshire Council will be working hard to ensure that this funding can be made available as soon as possible once the current restrictions have been lifted.
Please note that this funding is available to the property or building owner only. If you have made the Council aware of the property flooding as the tenant, please call Shropshire Councils Customer Contact Centre to update our records. Where possible please provide the contact details of the owner of your property or the agency who manages your letting.
Regards,
John Bellis
Drainage and Flood Risk Manager
G C Neden
Diddlebury Parish Google Group
01/05/20
---
Diddlebury Parish Flood Action Group
Update on Storm Dennis for April 2020
Although I was unable to go to the Steering Committee last month, I did take part in the phone conference call and was able to put forward the problems which Diddlebury experienced. It was encouraging to hear what progress Cardiff University are making with their field and laboratory work with a view to formally quantifying the effects of leaky dams on flood flows.
At the request of the National Flood Forum, I put in some Notes for the EFRA Select Committee on Flooding on the way in which the Authorities dealt with Storm Dennis and made some suggestions for improvements. These Notes are included below this item
Since writing my last Report, I have learnt that two other buildings flooded during the storm – one of Topher Morgan's farm buildings and the Corvedale C of E Primary School.
Storm Dennis was estimated to be a 1 in 100 year event whereas the previous storm in October 2019 was thought to be a 1 in 40 year event. We are trying to match the resulting flooding with the rainfalls and compare these with known flood levels in earlier, pre leaky dam, events so as to get an informal idea of what difference the leaky dams might have made.
We would normally be arranging the first work party of the year to keep vegetation in the Diddle Brook under control in the next few weeks. This of course cannot happen under present Regulations but perhaps alternative arrangements can be thought up and I will keep you posted.
Geoff Neden
08/04/2020
---
Diddlebury Parish Flood Action Group
Comments for the EFRA Select Committee Enquiry on Flooding – Deadline May 15th 2020
Terms of Reference
1. Are the current national and local governance and co-ordination arrangements for flood and coastal risk management in England effective?
2. What lessons can be learned from the recent floods about the way Government and local authorities respond to flooding events?
3. Given the challenge posed by climate change, what should be the Government's aims and priorities in national flood risk policy, and what level of investment will be required in future in order to achieve this?
4. How can communities most effectively be involved, and supported, in the policies and decisions that affect them?
5. With increasing focus on natural flood management measures, how should future agricultural and environmental policies be focussed and integrated with the Government's wider approach to flood risk?
6. How can housing and other development be made more resilient to flooding, and what role can be played by measures such as insurance, sustainable drainage and planning policy?
Comments by the Diddlebury Parish Flood Action Group
The following comments are made from the point of view of a local Flood Action Group in the Corvedale area of Shropshire. We have over the past few years been the beneficiary of much work in the field of Natural Flood Management (NFM) by a large number of Agencies. The results of this programme are now under assessment by a team from the University of Cardiff.
Item 1
The Corvedale area has suffered over the past 18 months or so owing to a vacancy in the post of Drainage and Flood Risk Manager, Flood and Water Management Team, Shropshire Council. The new incumbent, John Bellis, started work late last year and we hope to see an improvement in coordination soon.
Otherwise we have held regular Multi Agency Meetings which have been useful although the implementation of our requests for action – particularly from the Highways Dept – has been very slow. We understand that the cause of this does arise from the local staff but stems from higher up the chain and we have written to our MP asking for his assistance along with that of the local Councillor.
Item 2
Whilst all the Council staff involved in flooding worked extremely hard to assist those affected by it, they were overwhelmed by the scale of the problems. We understand that it is of course impracticable to have expensive resources (personnel, materials etc) held ready for long periods in the anticipation of flood events which happen relatively rarely but consider that more forward planning is required as severe events seem to be occurring with greater frequency.
On a practical level, our local flooding during Storm Dennis was made far worse by blocked highway drains and gullies. Reasons for this include less regular maintenance work as the result of financial cut backs to Council Agencies and also an increase in run off from agricultural land – resulting from changes in agricultural practices - which was not allowed for in the design of these drainage systems and which leads to their capacities being exceeded – even if they had been kept clear. Run off is both from the field surfaces and from underground drainage systems which discharge into roadside ditches. The surface run off contains top soil and silt which blocks the drains and gullies but also fertilisers which are environmentally harmful to the receiving watercourses. The loss of both topsoil and fertiliser must represent a financial loss and long term physical problem to the farming community and in our view this problem should be urgently addressed  - taking into account the opinions and needs of all interested parties and looking at all possible means of mitigation. Legislation may be necessary.
It seems to us that the prioritisation of works by the Highways Authority in the field of surface water drainage is not always decided on a rational basis ie those required most urgently are not always those given priority. There are no doubt reasons for this situation but in our view the present method used for allocation of job priorities needs revisiting.
Item 3
This is beyond our level of competence but is clearly a vital concern.
Item 4
The gradual loss of Direct Works Departments within Council's Highway Departments  and their substitution by the use of Contractors who change on a regular tender basis, means that the knowledge which used to be gained and held over years by local men employed by the Council has been lost as the Contractor's men have no prior knowledge of the area and the Registers of drainage systems etc are rarely either inclusive or accurate. All such Registers should be updated and then kept up to date with the data stored securely and made available to any bona fide and relevant organisation such as a Flood Action Group who may require it.
Local Flood Action Groups know their areas well and are available to assist Councils in both the preparation and updating of Registers. In the longer term, some means of assuring in house continuity of local knowledge within the Council's staff would be a useful back up.
Item 5
A solution to the problems of agricultural run off mentioned in Item 2 above is required.
Our experience of NFM has been positive with much anecdotal evidence of the effectiveness of leaky dams. We eagerly await the results of the Cardiff University Study which hopefully will quantify the benefits.
Clarity is required on responsibilities for possible downstream flooding resulting from the failure of one or more leaky dams – possibly constructed on land belonging to several different owners.
Ownership of leaky dams and responsibility for their future maintenance and possible future renewal also requires clarification.
The unconventional range of procedures used for NFM quite possibly do not fall within existing legislation – as that deals more with conventional engineering and building works - and it may well be that this needs revisiting to keep it relevant.
In particular, it may in some instances be necessary to use Compulsory Powers – with all necessary safeguards - if land owners are otherwise unwilling to allow the construction of NFM structures in situations where their deployment is essential to prevent flooding downstream.
Access across private land to these structures for subsequent maintenance and/or monitoring purposes can also be problematical although it is recognised that outside of emergencies, such access visits should not interfere with normal agricultural practices. Perhaps some sensitive legislation could help with this.
Item 6
The prohibition of building new housing on flood plains seems a good place to start.
All Sustainable Urban Drainage Systems (SUDS) structures should conform to the requirements of the Building Regulations which may themselves require amendment to encompass less conventional approaches. The Draft Code of Practise produced by British Water should be the guideline for the design of SUDS features.
Lead Local Flood Authorities (LLFA's) and/or their Agents should monitor the construction of all SUDS structures which are required under a Planning Approval – perhaps best carried out by the enhanced use of Building Inspectors as they check the rest of the building works at different construction stages.
The Register of Surface Water Assets should include all those Assets on private property which should be formally "designated" and it should be kept up to date with each new owner made aware of their existence, dimensions, location and purpose. A site location plan should be used for this purpose.
LLFA's and/or their Agents should ensure that all necessary ongoing maintenance of SUDS structures (including their eventual replacement) is carried out in perpetuity by the builder and all subsequent owners. To achieve this, the scope of Local Authority Searches should be expanded to include these Assets – their location, dimensions, use and maintenance requirements – using the location plans recommended above. The need to keep such Assets available for inspections should be highlighted to prospective owners who should also be made aware that they are not allowed to alter the "designated" structures without first having applied for permission from the relevant Authority. The above applies equally to situations where one SUDS facility serves multiple building ownerships although in this case, some form of legal Agreement would be required to which all new owners would have to sign up.
The Legal Profession when Conveyancing properties, should be under a legal obligation to notify prospective purchasers of the existence of these Assets and their responsibilities in terms of ongoing inspection/maintenance/replacement requirements.
The Insurance business could also assist by insisting on properties they insure being flood resilient and requiring the regular maintenance of SUDS features to keep Policies valid.
There seems to be no formal control over how Community Infrastructure Levy (CIL) monies are used. Sometimes they are not available for use in building necessary upstream flood prevention measures but are instead put to different uses by Councils. This situation needs regularising.
The cost of obtaining necessary Ordinary Water Course Consents (OWC's) is considerable (even though the swingeing increases in these costs recently requested by the Environment Agency were not allowed) and act as a deterrent to local Flood Action Groups who generally have only limited funding. The use of a proportion of such limited funds for administrative purposes goes against logic. Such Consents should be freely available for bona fide uses by Flood Action Groups.
This whole topic of Riparian Ownership seems to be a legal minefield where as laymen it seems impossible to get answers as to who owns what and whose responsibility it is to maintain watercourses on or adjacent to private properties. Clarity on this issue would be most welcome.
Geoff Neden
Diddlebury Parish Flood Action Group
06/04/2020
---
Diddlebury Parish Flood Action Group
Update on Flood Event of the night of 15th/16th February 2020.
Since writing the Report dated 18th February, I have been alerted to two further properties which flooded over the same weekend.
These are Mill House, Bache Mill which had about 6 inches of water in one room and the garage of Brook Cottage Peaton.
Highways Dept visited Corfton Bache and Lower Corfton on 10th March and unblocked all the gullies including the final one near Corfton Manor. We have asked that they return as soon as possible and clear out the storm drains in between the gullies and elsewhere.
The residents of Middlehope have removed a troublesome section of hedge and replaced it with a gate through which storm water can flow to the road. This gate can be strutted to withstand the force of flood water when debris builds up behind it in subsequent storms when it will act as an informal leaky dam.
In company with Rhian Townsend from the Flood and Water Management Team Shropshire Council, on the 5th March I visited all the properties which suffered from flooding and we spoke with all the inhabitants.
The coronavirus is having a malign effect on the FAG and not only has the Corvedale Catchment Group Meeting planned at Culmington on 26th March been cancelled but so has the quarterly Steering Group Committee meeting in Shrewsbury, planned for 24th March although there will be a teleconference instead. This Meeting would have provided an update on the activities of Cardiff University and also an opportunity for me to present community feed back from Diddlebury Parish.
Luke Neal from the Shropshire Wildlife Trust has recently had an operation on his foot so will not be able to carry out the survey to see how the leaky dams fared during Storm Dennis for a month or two. I did go and look at some accessible leaky dams below Wilderhope soon after the storm and they appeared to have survived well.
The Government has made funding available to those who suffered flooding and it is available on application to the Shropshire Council, Corporate Finance Dept – contact: Cheryl.Sedgley@shropshire.gov.uk.
G C Neden
Diddlebury Parish Flood Action Group
19/03/2020
---
Diddlebury Parish Flood Action Group
Below are a set of Notes kindly prepared by Sharon Constable following her attendance at the recent NFF Conference in York.
National Flood Forum (NFF) Conference
National Railway Museum, York
5th March 2020
Notes for FAG
Paul Cobbing, the Chief Executive, gave an excellent opening address on the work of the NFF with flood victims and Government agencies after storms Ciara and Dennis. The need for help has been unprecedented as many homes have experienced delays, disinterest and problems particularly with their Insurance companies.
The NFF have become the voice of many people in flood hit areas as they seek recompense and help from the many agencies involved.
One thing that came out strongly was the question: "whose water is it" with householders being pinged from one agency to another as no one seems to want to take ownership of care for flooding situations.
The government has promised (prebudget) £4.4 billion over the next 5 years for local authorities to use in flood defences, but the question is how is this money best spent? Shifnal for example have refused their personal flood repair budget for each home in favour of a longer term solution to the cause of flooding upstream. This amounted to £500,000.
The question of agricultural run off was discussed in some of the workshops and what incentives are there to help farmers alleviate this problem. There is Environmental Land Management (ELM) which promises farmers and landowners grants to aid climate change mitigation management among other things. However, this does not come into action until 2021 and it's take up will depend on farmers signing up.
As a flood victim, the advice given from NFF I took away with me was the mantra "The insurance company is not your friend".  Given the stories I heard from many victims every piece of advice should be carefully monitored by householders, and building contractors be checked up on as to their expertise - especially on heritage buildings. 
I also attach below Notes from all the workshops which are being collated and sent as a document to DEFRA with the expectation of NFF, Defra and other agencies working together to find a way forward for further climate change mitigation.
A good and informative day. I thoroughly enjoyed it.
Sharon Constable
Glebe Cottage
Diddlebury
19th March 2020
Workshop Notes
Summary
Flooding destroys lives

people centric approaches are needed

The challenge is huge and we need to act now.   This is a moment for change
National policy needs to set the scene

to provide a cross society framework
create the ambition
FCERM and Planning White Paper

Strategic coordination and delivery is needed in places
Making it happen

Behaviour – we all have a role
Delivering together – from planning to enforcement
Funding
Communities as equal partners
Future of property protection
Policy changes

Building standards
Planning and development
Insurance

Behavioural change

we all have a role in managing water in our professional and home lives
organisations will need to learn how to work with communities for long term adaptation

Accreditation based on a systems approach

A certificate for all properties
Riparian management and Drainage
Information packs on roles and responsibilities for every property with assets, not just residential ones
Existing owners

explain and educate
update maps and records as much as possible

Enforcement/management

Needs policy and resources to help Lead Local Flood Authorities and other Risk Management Authorities
Surface water management
Planning

Surface water should be regarded as important as Flood Zone 3
Schedule 3 enactment and enforcement
Retrofitting capture of water on existing properties

Remove developer's right to connect

To highways – need new legislation
Sewers and drainage

Communities are equal partners

Making local decisions
Finance and resources
The role of communities and organisations in a changing world?
Place based local decision making
Working together rather than in silos
Funding for meaningful face to face conversations
Development – Planning not to flood
Better strategic management

Putting resilience at the forefront of a Department for Climate Change policy

Refocus - Don't let developers run the show

Stricter requirements for developers
Focus more on resilience, rather than numbers of homes

Resources – skills, education, money

Invest in knowledge
Enforcement
Having the right people in place
Communication with everyone involved is key
Catchment area management.
We want a national approach to integrated management
Funding needs to hep catchment based approaches include all stakeholders
How is Government going to align, coordinate and update a catchment based approach
Follow this link to the Codes of Practice for Property Flood Resilience produced by CIRIA .
---
Diddlebury Parish Flood Action Group
Below is a letter sent recently to our local MP, Mr Philip Dunne
Dear Mr Dunne,
Firstly may I congratulate you on your appointment as Chair of the Environmental Audit Committee. It is encouraging to have someone of your background and experience running such an important committee – particularly in these times of climate change.
As you will be aware, the Corvedale suffered from flooding last weekend. Though thankfully we were not affected as badly as Tenbury Wells, there was substantial damage and several properties were flooded.
Yesterday I called round the villages in the Diddlebury Parish to see how they had fared and it was noticeable that there was one common thread to all the comments I received.
This was that the flooding was made worse throughout the Parish by blocked storm drains and gullies. I have written to you – and our local Councillor - before on this problem and attach a Report I prepared for the NFF late last year in which I also highlighted this matter in Paragraph 6.
It seems that the past programme of regular drain and gully cleaning here has fallen away. Knowing the officials involved, I am sure that the problem lies not with them but higher up the chain.
I, and all members of the Flood Action Group, as well as all of the local residents would much appreciate some action being taken on this front. Storms are likely to become more frequent and more violent so it seems a dereliction of duty not to properly maintain the drainage systems already built to deal with flooding.
Of course there are also the causes of these blockages to consider. It appears to us that much of the problem is caused by silt and top soil running off farm fields in storm times and finding its way into the drainage system. We feel sure that our local farmers are aware of this and do their best to minimise it but perhaps forthcoming legislation could provide incentives to encourage such steps if for example, once taken they were to mean loss of arable land to buffer zones.
I look forward to hearing from you.
Yours Sincerely
Geoff Neden
Chair
Diddlebury Parish Flood Action Group
18/02/2020
---
Diddlebury Parish Flood Action Group
Report on Flood Event of the night of 15th/16th February 2020
Diddlebury village
With the land already saturated by Storm Ciara, there was an enormous run off from Storm Dennis. The depth gauge passed the lower alarm level (0.3m) at 11.30pm on the 15th and then the higher alarm level (0.8m) at 1.30 am on the 16th. It peaked at about 1.43m shortly afterwards.  This is approximately 0.5m higher than the peak in October 2019.
As the peak occurred at night, I did not see it but there is much evidence of what happened.
As in October last year, the Diddlebrook burst its banks in the grounds of Glebe Farm and flood waters then came out onto the road causing flooding on the bend by Glebe Farm Cottage. This extended beyond the parking space by the Cottage. A flood mark shows that the water level was about 300mm up the Cottage wall by the gully (Fig 1). However the flood was such that it reverted to the old route of the Brook across the front lawn of Glebe Farm and hence into the path beside Glebe Farm Cottage. The flood gate at the end of this path prevented flood water from the road side entering but also prevented the flood water from the Glebe Farm lawn area from getting away so it must have built up along the length of the house. Given the stone construction of the Cottage, water seeped in all along the wall and most of the ground floor of the house was flooded. This last happened in 2007.
The road beside Diddlebrook Barn flooded and this extended onto the unmade track leading to the Malthouse which was surrounded by flood water (Fig 2). The wooden bridge serving Church Cottage was overtopped (Fig 3) as were the wooden footbridge on the public footpath and the concrete footbridge by Delbury Cottage. The grounds of Delbury Hall were partly inundated. The flooding level on the wall of Diddlebrook Barn was very similar to that in the 2012 event – about 300mm above ground level - and far higher than that in October 2019.
Mill Lane became a watercourse partly as the result of blocked gulleys and storm drains but also due to the amount of water running onto it from the Park lands to the west and off the B road. The green lane between Glebe Farm and Willowbrook was inundated and these flood waters washed a lot of gravel from here onto the road at the entrance to the Delbury Barns courtyard (Fig 4).
On the B4368, there was flooding just west of the village caused by run off from fields to the north (Fig 5). Flood waters came down the Pinstones road and also the concrete driveway opposite Mill Lane (Fig 6)  and these caused flooding at the bridge which was slow to clear because of blocked gulleys (Fig 7). Damage was caused to the new driveway in Bache Mill House. A house immediately north of the bridge was flooded.
The leaky dams above Diddlebury are to be inspected shortly to see how they have coped with the winter storms. This was to have been carried out on Wednesday 19th but had to be postponed due to the wet conditions. I will circulate a Report on the results of this later. Those above Bouldon will also be surveyed shortly.
Elsewhere in the Parish
The road to Peaton was blocked by the River Corve flooding from the bridge onwards and the fields on both sides were watermeadows (Fig 8).
Peaton
Peaton was badly flooded – the main road through the village was inundated and judging by debris in roadside fences (Fig 9), the water came up nearly a metre and then found its way out via the old route by Brook Cottage. There was also some tree damage (Fig 10).
There was some flooding on the road between Peaton and Peaton Strand but this had cleared by the next day.
Peaton Cottage at Peaton Strand was flooded by about 300mm of water but Church House next door was not.
Bouldon
The flood in the Pye Brook at Bouldon peaked between 1.30am and 2.00am. Prior to that the level rose by over a metre in less than an hour. Sand bags were deployed in the village to barricade properties. The Tally Ho Car Park was flooded to a depth of about 450mm. Bouldon Farm House was not flooded by virtue of the earth berm at the top and the yard gate being closed off before the flood came down (Fig 11). Flood water was flowing across the top of the adjacent bridge. The event was comparable to that in 2012 but less bad than the one in 2007. Flood water was passing over the wall by the waterfall. The problem was made worse by the number of blocked drains and gulleys in and around the village.
Middlehope
Middlehope junction suffered the worst flooding for 16 years and one garage nearby was also flooded to a depth of 150mm and a newly raised driveway was damaged. The culvert overflow pipe beneath the road was blocked as were many chambers. These have now been cleared by local residents and the EMO.
Corfton
Karray Cottage in Lower Corfton was again flooded for the second time in 3 months. The culvert beneath the road nearby is clearly blocked or undersized and we have asked Highways to look at this on many occasions in the past 3 years.
General
Given the lack of response from Highways to the Corfton problem and also the apparent lack of any regular maintenance programme to keep drains and gulleys clear, I have written to our MP – who has recently been appointed as Chair of the Environmental Audit Committee – to ask for his assistance.
Fig 1                                              Fig 2                                  Fig 3                                               Fig 4                                               Fig 5